Posts Tagged 'Two Tribes'
A puzzle game where gamer skills actually matter? To master Swap This! you need real skills, quick wits and tactical thinking. In no-time you'll orchestrate screen-clearing chain reactions and use super-charged power-ups!

There's a lot to do! You can choose from 4 varied modes: Minute Match, Wave Mode, Fish Fight and Puzzle. Combined with surprisingly smart gameplay systems, Swap This! really offers oceans of depth.

Unique arcade-style take on matching puzzle games
Hone your skills, start chain reactions and master power-ups
4 varied game modes: Minute Match, Wave Mode, Fish Fight and Puzzle
Play on the touch screen for maximum velocity
Exclusively available on Nintendo Switch
It's only ¢99 / €1 for the first few weeks, so why are you still reading this?!
Source: PR Email
With Swap This! popping up in the Nintendo Switch eShop this Friday, we keep hearing some of the same questions. So we asked them all to Two Tribes creative director Collin van Ginkel.

Q: Why did you develop Swap This!?
A: We wanted to make matching games exciting again! When we started development, 7 years ago now, the genre was all about simple repetitive tasks and being rewarded with fancy animations. This is actually still the case… With Swap This! we wanted to create something more skill-based, requiring fast reflexes and tactical thinking. You still start by matching colors, but once you get the hang of it you'll juggle multiple chain reactions in real time while deploying power-ups strategically. It all stems from the fact that you can swap any cube on screen whenever you want, opening up a sea of possibilities.

Q: You call Swap This! 'arcade-style', why?
A: We feel it this phrase captures the game's spirit quite well. You need skill to play, it's lightning fast, and you even have to beat giant enemy fish! Oh, and it costs only a few quarters… 😉

Q: Swap This! came out 7 years ago, but not really. What happened?
A: It's a long story that we can't dive into too deeply. We ended up doing a very small-scale release on mobile, then pulling the game just a few weeks later.  Let's say we were not happy with how the game's release was handled, and we felt it didn't get a fair chance.

After that it lingered in the Two Tribes treasure chest for a long time. We even tried to convert the game to a free-to-play model, but failed because the game is about real skill, not about buying your way to victory.

Q: Why bring it to Nintendo Switch now?
A: We've toyed before with the idea of releasing an updated version of Swap This!, but now the Switch offers us the perfect opportunity. It has a responsive touch screen, which is the best way to play this game, and a lot of Switch players are looking for skill-based challenges we feel. Additionally, there aren't many matching games on Switch in the first place, so we felt the time was right!

Q: When, and how much?
A: It comes out on Friday November 2nd for just 1.19 $/€. You can pre-order it in the eShop today!

Q: Can the game be played in TV Mode?
A: Definitely! We made sure to include a gyroscope-based pointer mode, which works surprisingly well. But the best way to play for sure is on the touch screen in Handheld Mode, where the game responds instantly to your input!

Q: What's going on with all the fish and the ice cubes in this game?
A: We created an original underwater universe for Swap This!, with innocent tiny fish assaulted by violent mega fish as well as ice cubes from alien refrigerators. You swap ice cubes that have encapsulated fish, to break the cubes and set the fish free. Makes sense, right?

Q: Why did you choose the aquatic theme of oceans, beaches and fish, as well as the colorful graphics?
A: We wanted to convey accessibility, as anyone can pick up and play a matching game, but we also wanted to convey freshness. Because Swap This!brings something new and unexpected to the genre.

Q: Can you explain what the 4 game modes are all about?
A: Sure! Minute Match challenges you to get better and score more points within a 2 minute time limit. Wave Mode just keeps on rolling. Fish Fight has you beating giant enemy fish by breaking the ice in time. And Puzzle offers 45 brain-teasing ice-cube conundrums to solve.

Q: Finally: hey Two Tribes, we thought you were done making games?!
A: Well, we announced in 2016 that we wouldn't develop any new projects after our sci-fi action game RIVE. This is still the case. But we also promised back then that we'd still support our existing games and fans, which is why we've been releasing titles from our back catalog on Nintendo Switch: RIVE, Toki Tori 2+, Toki Tori and now Swap This! Each one of these releases is the best version of that respective game, and each one feels quite at home on Switch.
Source: PR Email
Once thought lost in the Two Tribes treasure chest, Swap This! is here to make matching puzzle games exciting again! It's a game in which gaming skills like fast reflexes and tactical thinking actually count for something. Players still match colors, but once they get the hang of it they'll be juggling multiple chain reactions in real time while strategically deploying power-ups to beat giant enemy fish!

It's fresh, it's fast, it's deep – Meet Swap This!, the arcade-style puzzle experience!

A new game from Two Tribes?
More than 7 years ago, we decided we wanted to make a puzzle game that really challenged gamers' skills. We felt this was lacking from the puzzle genre, and we still do.

Swap This! never got a proper release and lingered in the Two Tribes treasure chest, deemed lost. With the arrival of the Nintendo Switch we decided to bring it to the surface, polish it up and make it available to puzzle players worldwide.

Why Switch and not another console?
Because Swap This! plays best on a touch screen. 'Arcade-style' is the perfect description: you need skill to play, it's lightning fast, and you even have to beat giant enemy fish!

What's different from your usual sugar-coated matching puzzle?
In Swap This! you can swap colored ice cubes anywhere on screen, whenever you want, in real time. So getting good really comes down to dexterity and tactics. You'll soon find yourself building up screen-clearing combos!

Additionally, the game includes 5 super-charged power-ups and 4 distinct play modes. There's a ton of stuff to keep you busy!

The best part? Swap This! for Nintendo Switch is only 1.19 $/€. It's currently available for pre-order!
Source: PR Email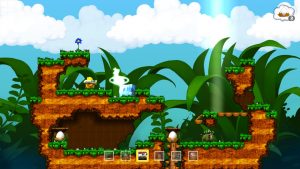 Two Tribes' classic egg-collecting puzzle game Toki Tori comes to Nintendo Switch™ on March 30th for just 4.99 $/€, with a 10% launch discount. Pre-orders start today in the Nintendo Switch eShop!

About Toki Tori

Join the millions of players who enjoyed this classic puzzle platformer, now on Nintendo Switch!

Take control of Toki Tori, a surprisingly heroic chicken, as he puzzles his way through 80+ levels spread over 5 unique worlds.

Toki Tori isn't very athletic, he can't even jump! Luckily he has some great tools at his disposal, including the Telewarp, Freeze-o-Matic and InstantRock™.

Creative thinking and problem solving are required to collect all eggs in each level, but don't worry! When you get stuck, you can always rewind the time. And if all else fails, use the Wildcard to skip a level.

Toki Tori for Switch is the most detailed portable version of the game so far. And at this price, why wouldn't you give it a go?

Classic egg-collecting puzzle platformer
80+ levels, 5 worlds, dozens of hours of gameplay
A wide variety of puzzle-solving items and weapons
Never get stuck: rewind the time or skip a level
Super smooth graphics at 60 fps
HD Rumble support
Video capture support
Source: PR Email
Experience Toki Tori's Epic Puzzle Adventure on the go, for the first time ever!

Toki Tori 2 returns to its roots after originally coming out on Wii U back in 2013. On Nintendo Switch™ you can play it on the go for the very first time. The Nintendo Switch Edition is the game's best version yet!

Why should you be excited? No one said it better than Mark Brown in his Game Maker's Toolkit video essay:

"Believe it or not, but Toki Tori 2 was one of the most daring and ingeniously designed puzzle games of 2013. It's a Metroidvania game where you aren't stopped by doors you can't open or blocks you can't break."

"It respects your intelligence in a very satisfying way. This one has gone overlooked, but it deserves more attention. Don't be fooled by its cutesy exterior. This puzzler is wicked smart and devilishly tricky."

For this version, we've applied a ton of extra polish, even throwing in some new secrets and solutions.

Toki Tori 2+: Nintendo Switch Edition runs buttery smooth at 60 fps, and features in-game Achievements, as well as HD Rumble and video capture support.

Toki Tori 2+: Nintendo Switch Edition comes out on February 23, with a limited-time introduction price of 9.99 $/€.

Pre-orders are available TODAY in the Switch eShop!

About Toki Tori 2+: Nintendo Switch Edition

Explore an enthralling forest island, learn magical songs and interact with the local wildlife to solve environmental puzzles.

Toki Tori 2+'s ingenious game design requires just two moves: whistle and stomp. It's super accessible, yet it builds up to incredible complexity later on.

There's a ton to do, too. After puzzle-solving your way to five Ancient Frogs and saving the island from a strange pollution, you can still find 100s of golden wings, snap dozens of creature pictures and go Achievement hunting.

Toki Tori 2+ is better than ever on Nintendo Switch, with lots of gameplay tweaks and even some new secrets and puzzle solutions. Plus, you can now create checkpoints wherever you like, allowing for easy experimentation.

A unique take on the Metroidvania formula
Follow the path, or stray off-road and tackle the expert puzzles
Whistle magical songs to rewind, fast-travel and more
Snap dozens of Tokidex creature pictures

Better than ever on Nintendo Switch:

Tweaked gameplay, new secrets and solutions
Buttery smooth graphics at 60 fps
Featuring in-game Achievements
HD Rumble support
Video capture support
Source: PR Email
Two Tribes' metal wrecking, robot hacking shooter RIVE will be better than ever on Nintendo Switch.

We're highlighting 4 reasons why this is the Ultimate Edition of RIVE:

Play with a friend in Copilot Mode
We're including an exclusive way to play together, controlling the spider tank with two Joy-Cons. Making awesome use of the Switch's built-in local multiplayer!
HD Rumble effects let you truly feel the action
HD Rumble is a great Switch feature, and we're making full use of it, with effects ranging from subtle bumps to extreme stereo shakes.
More achievements: 48 and counting
We've created a full in-game implementation of RIVE's achievements on Switch… Adding some extra ones for good measure.
Loads faster, plays smoother, tweaked to perfection
We've gone back in to optimize our custom game engine and tweaked the entire campaign, resulting in rock solid performance and better game flow!

ABOUT RIVE

Pilot your spider tank as it runs, jumps and shoots its way through hordes of mechanical enemies on land, underwater, in zero gravity and even on a moving train.

RIVE is a modern ode to classic shooters, pumping megapixels at a deliciously smooth 60 frames per second, even in 1080p mode!

Hack and control your enemies
Upgrade your special attacks, armor and loot magnet
Quirky story featuring robot butlers, space loot and clean teeth
Daily Challenges and infinite Battle Arenas
Speedrun and Single-Credit modes
Online leaderboards for all modes and missions

The game's been well-reviewed on Steam, with a 94% user score. The recent Limited Run Games physical disc for PS4 sold out in a whim.

For more information, follow us on Twitter or on Facebook, or visit rivethegame.com.
Source: PR Email