April 19th, 2019 — X.D. Network are excited to announce that Muse Dash, the rhythm action title from PeroPeroGames, is coming this June to PC and the Nintendo Switch! Having established a passionate following in Japan, and after extensive fan requests for PC and Nintendo Switch versions, Muse Dash will finally hit both platforms with a limited-time exclusive Marija skin on PC and Nintendo Switch, and all DLC from previous versions included for the Nintendo Switch!

Given the Players' Choice award by TapTap and best indie game of 2018 awards from other platforms, Muse Dash has secured a special spot in many players' hearts, and now the waifus are here to collect yours too. The team teased fans with a Nintendo Direct peek, but the time is officially coming to test your twitch reflexes on new platforms with over 80 unique J-Pop, Pop, Trance, and Vocaloid songs to play, and 3 Anime heroines (voiced in Japanese) to choose from as playable characters!

Simple 2-button controls make Muse Dash easy for players to jump into, with action side-scroller mechanics like traditional rhythm game instrument solos, timed dodges, and beat-based enemy attacks all mixed together to mash the perfect jam. Rhythm game players will also find depth in Muse Dash, as mastering each song takes more than just a few tries. Each song comes with trophies to unlock, leaderboards to make your mark on, and 3 difficulties to suit your style. Focus on your rhythmic abilities while keeping those reflexes strong to become a true master of Muse Dash!

Players' choice of songs is also reflected in how Muse Dash plays, as different musical genres present varied challenges. Explore the full musical lineup to see a wide variety of locations, enemies, and bosses this Summer on PC or Nintendo Switch!

What to expect from Muse Dash:

Launch on Nintendo Switch and PC in June 2019
Nintendo Switch version will have free DLC updates
Over 80 songs to master in-game
Rhythm mashed gameplay with surprising depth
A variety of stages, enemies, and bosses to face representing different music genres
Limited-time exclusive Marija skin
3 unique heroines to play, each coming with their own pets, and unlockable outfits
Leaderboards for each song to challenge yourself against the very best in Muse Dash!
High-level difficulty options for rhythm game players who want to master Muse Dash

The PC and Nintendo Switch versions of Muse Dash will include English, Japanese, Korean, Simplified and traditional Chinese localization options for players to choose from. The Nintendo Switch version will launch on the e-shop in Japan, North America, Europe, and Australia with DLC included, while the PC release will be worldwide with DLC available separately.
Source: PR Email
Paris – April 18th, 2019 – Microïds and PlayMagic Ltd unveil today a teaser for the remake of the cult classic XIII, the cel-shading FPS initially released in 2003. Players will be delighted to learn that XIII's remake will be available the 13th of November 2019 on PlayStation 4, Xbox One, Nintendo Switch, PC and Mac!

Based on the first five volumes of the eponymous comic book series, XIII conquered the gamers' hearts with its unparalleled mix between a story-driven adventure, a solid gameplay and a unique artistic direction.

"We aim to craft the finest adventure for players and XIII is definitely in line with our publishing strategy. Revisiting this game came naturally as we felt this unique kind of story driven FPS experience was missing in today's gaming landscape. Our goal is to bring XIII's compelling story to a new generation of players with the best possible graphics and animations." Declares François Coulon – Head of Production at Microïds

"The PlayMagic team is very excited for the opportunity to remake a true classic; modernizing the graphics, sound and animations while remaining faithful to the original XIII's incredible look and feel. XIII's gameplay mechanics are being reworked in an effort to modernize the experience in a way that encompasses the original spirit of the game. We are sure that the fans of the original game will love rediscovering one of their all time favorites while new players discover a truly iconic masterpiece in a new light." Declares Giuseppe Crugliano, CEO & Creative Director at PlayMagic Ltd.

The story:

Play as «Thirteen», a talented soldier who lost his memory and has been accused of killing the President of the United States. You wake up injured and amnesic on Brighton Beach with the only clue being a small key and a mysterious tattoo « XIII » next to your clavicle. It's now your job to search for answers in the 34 levels of the solo campaign. Don't worry, you will find the appropriate weapon arsenal along the way.

More information about this remake will be revealed soon… Stay tuned!

XIII's remake will be available the 13th of November 2019, both in physical and in digital editions on PlayStation 4, Xbox One, Nintendo Switch, PC and Mac. The rating is still pending.
Source: PR Email
April 18 2019 – Indie publisher Digerati and one-man developer Nerdook (Monster Slayers, Vertical Drop Heroes) are delighted to announce that turn-based strategy RPG Reverse Crawl is coming soon to Nintendo Switch – the game will be available to download from the eShop from May 10th.

The Switch version features an all-new local PvP mode to complement Campaign and Endless modes, while the game's UI has been specifically modified for Nintendo's console.

Reverse Crawl inverts the classic dungeon crawling premise, putting players in the claws and armored boots of monsters, undead, and other fantasy enemies in a quest to defeat heroic warriors and their Red Queen.

Includes a brand new local PvP mode, created exclusively for the Nintendo Switch version.

Key features

Vanquish foes using a deceptively deep tactical turn-based combat system
Assemble an army of dark dungeon dwellers, including skeletons, zombies, goblins and more
A dynamic campaign that's different each time, complete with a branching storyline
Battle your way through Campaign and Endless modes, and an all-new local PvP mode
Unlock new minions, traits and powers as you play
Created by one-man indie machine, Nerdook (Monster Slayers, Vertical Drop Heroes)
Source: PR Email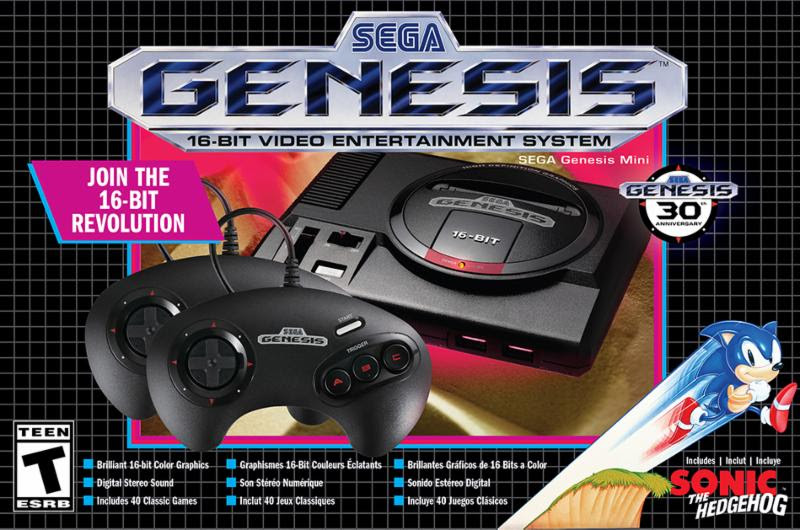 IRVINE, Calif. – April 18, 2019 – Whoaaa, Nelly! It's time to run and jump our way to the next lineup of timeless classics making their way to the SEGA Genesis Mini with some of the biggest characters in video game history.

SEGA Genesis Mini, Starring:

The GROOVY! worm himself, Earthworm Jim!

Sonic's BFF, Tails, in his debut performance, in Sonic the Hedgehog 2!

The one and only, Mickey Mouse, in two classically-animated games, Castle of Illusion Starring Mickey Mouse and World of Illusion Starring Mickey Mouse and Donald Duck, each with their own beloved casts of characters.

The Next 10

Earthworm Jim
Sonic the Hedgehog 2
Castle of Illusion Starring Mickey Mouse
World of Illusion Starring Mickey Mouse and Donald Duck
Contra: Hard Corps
Streets of Rage 2
Thunder Force III
Super Fantasy Zone
Shinobi III: Return of the Ninja Master
Landstalker

SEGA Genesis Mini FAQ:
Q. When does it launch?
A. September 19, 2019

Q. Which games will be included?
A. The first 20 titles included with the system, with the rest to be announced intermittently over the coming months, are:

Sonic the Hedgehog
Ecco the Dolphin
Castlevania: Bloodlines
Space Harrier 2
Shining Force
Dr. Robotnik's Mean Bean Machine
ToeJam & Earl
Comix Zone
Altered Beast
Gunstar Heroes
Earthworm Jim
Sonic the Hedgehog 2
Castle of Illusion Starring Mickey Mouse
World of Illusion Starring Mickey Mouse and Donald Duck
Contra: Hard Corps
Thunder Force III
Super Fantasy Zone
Shinobi III: Return of the Ninja Master
Streets of Rage 2
Landstalker

Q. Which version of the Genesis is the Mini based on?
A. It's based on the original Model 1 Genesis which launched in Oct. 1988 in Japan, Aug. 1989 in North America, and Nov. 1990 everywhere else.

Q. How big is it in comparison to the original console?
A. It's approximately 55% of the original Model 1 size.

Q. What do you get in the box?
A. The Genesis Mini comes complete with 40 games, Two replica three-button USB Genesis controllers, One USB to Micro-B power cable, One power adapter (North America only), and One HDMI cable.

Q. Who handled the ports?
A. M2 is handling the porting process. They've previously worked on SEGA AGES and SEGA 3D Classics Collection, with a fantastic reputation based on the quality of their emulation projects and their faithfully recreated ports.

Q. Can I use original Genesis controllers with the Mini?
A. No, only the provided USB controllers.

Q. How much will it cost at launch?
A. $79.99 US/£69.99/€79.99/AUD$139.95

Q. Where can I find more information?
A. genesismini.sega.com
Source: PR Email
April 17th 2019, Liverpool, United Kingdom – Ripstone Games, in collaboration with Lab42 and World Snooker, have today released Snooker 19 on PC, PlayStation 4 and Xbox One. Snooker 19 is available for purchase on Steam, the PlayStation Store and the Xbox Games Store for $34.99 / €34.99 / £29.99. A Nintendo Switch launch of Snooker 19is due later this Spring.

Snooker 19 features 128 of the world's top players including Ronnie O'Sullivan, Judd Trump, Mark Selby and Ding Junhui. Players can choose a seasoned pro or a rising star and progress through the ranks in the single player career mode, playing at meticulously detailed recreations of iconic venues such as The Crucible in Sheffield, The Tempodrom in Berlin and The Olympic Sports Center Gymnasium in Beijing. As they progress through their career, players will earn trophies to commemorate their victories and gear to customise their avatar.

Players can challenge their friends to matches locally or online, where they can also matchmake against regional and global opponents. For the biggest challenge of all, players can compete in global online tournaments, synced to their real world counterparts. Winning online tournaments will earn players highly stylised cosmetics such as new cues, waistcoats and bow ties, showing anyone competing against them that they are the king of the table. The first online tournament will be the Betfred World Snooker Championship, taking place at the legendary Crucible in Sheffield from April 20th – May 6th.

"Being big fans of snooker, we're thrilled to finally bring Snooker 19 to the masses," said Justin Forrest of Lab42, Game Director of Snooker 19. "This has been a big passion project of ours and the chance to work with World Snooker was a dream come true. We're confident that we have created the definitive snooker experience, and hope you will agree when you try Snooker 19 yourself."

Leveraging the visual feature set of Unreal Engine 4, Snooker 19 sets a new visual standard for the snooker video game. Lab42 have created a custom advanced physics engine, designed from the ground up to deliver the most true to life snooker experience and an AI engine designed specifically to emulate the way different pro players approach their shots and maneuver the cue ball around the table to continue their break.

"We want Snooker 19 to be the definitive video game snooker experience," said Hollie Pattison of Ripstone. "Collaborating with World Snooker and the development team at Lab42 has been incredible, we've all pushed to create an authentic sports TV-style presentation in the game, completely transporting players into the professional snooker experience."

About World Snooker

World Snooker is the commercial entity responsible for the commercial exploitation and promotion of professional snooker events across the world and is the custodian of the sport's commercial rights.
Source: PR Email
TOKYO, JAPAN – 15 April 2019 – Gensokyo Defenders, the blistering shoot-em-up tower defense game from Sony Music Entertainment (Japan) publishing label UNTIES and developer Neetpia, will bewitch enemy hordes on Steam on April 25. The Nintendo Switch version will receive a brand new DLC alongside the Steam release.

The Nintendo Switch DLC will be free and include three each of new stages and traps, as well as new playable characters: Yakumo Yukari, who can manipulate boundaries of all kinds; Toyosatomimi no Miko, an immortal Buddhist saint; and Byakuren Hijiri, a magic-wielding nun. The new content will also be available on Steam at the time of release.

Gensokyo Defenders pulls from more than 20 years of shared lore in the Touhou Project to give each of the 20 playable witches and fairies abilities thematic to their personality. Each girl comes with a set of three spell cards such as freezing enemies in place or building barriers to prevent escape from trap zones, as well as bullets to fire using twin-stick controls for extra damage.

Conquer more than 25 stages filled with magical foes by combining spells with an array of traps including spikes for raw damage, plants that slow movement and watchtowers that fire on attackers from a distance. Collect power ups and upgrade abilities to defeat 19 bosses. Join a friend for online co-op to defend the mystical realm of Gensokyo in an adventure blending tower defense with shooting action.

"Gensokyo Defenders is a great mix of Touhou Project shooter gameplay with classic trap-based defense strategy," said John Davis, G&R Representative, UNTIES. "Neetpia did a great job adapting Touhou characters and their powers into a classic tower defense setting to create a new strategic action experience that will have players begging for more."

Gensokyo Defenders is a fan-made entry in the Touhou Project, recognized by the Guinness World Records as the "most prolific fan-made shooter series." It will be available on Steam for $19.99 USD with English text localization and full audio and text available in Japanese. Nintendo Switch owners can get Gensokyo Defenders now for the same price.
Source: PR Email
SINGAPORE – April 15, 2019 – Masquerada: Songs and Shadows, the tactical RPG from Ysbryd Games and Witching Hour Studios featuring the voice talents of Matt Mercer, Felicia Day, Jennifer Hale, Dave Fennoy, and Ashly Burch, is coming to Nintendo Switch May 9.

A friend's disappearance leads Cicero Gavar on a journey through a fantastical world inspired by Renaissance-era Venice and brought to life in a vibrant, hand-drawn art style. Cicero will crush foes in real-time combat with tactical pause, combining his control over the elements with those of his companions on their adventure through a society at war with itself.

Only the wealthy and powerful can lay claim to Mascherines, masks that grant magical powers, though they have grown even more elusive in the five-year civil war that has destroyed many of the precious artifacts. Cicero's party will unearth how intimately the secrets of their pasts are intertwined with the war, their society, and the history of the Mascherines.

"Masquerada was an incredible experience for me. As a lover of storytelling and character development, the incredible writing of the game drew me in immediately," said Matt Mercer, voice actor for Cicero Gavar. "Now mix this grand tale with my love of Isometric RPGs of yore, and I'm sold on multiple levels. I'm not just a cast member of the project, but a dedicated fan."

Masquerada: Songs and Shadows is available now on PlayStation 4, Xbox One, Windows and Mac for $19.99 and can be played in English, French, German, Russian, Brazilian Portuguese, and Turkish languages. It will be available on Nintendo Switch for the same price.
Source: PR Email
12 April, 2019 – Digerati Distribution and developer Loren Lemcke are delighted to announce the Nintendo Switch™ release date for Super Blood Hockey has now been confirmed – the game will be available to download from the Nintendo eShop from 26 April (just two weeks away from the start of the 2019 IIHF Ice Hockey World Championship!), with a 20% launch discount for a limited time.

PS4 and Xbox versions will follow at a soon-to-be-confirmed date sometime in Q2 2019.

Already available on Steam, where it has accrued a powerful 9/10 user rating, the console versions will include an all-new Franchise Mode that puts players in the shoes of a corrupt coach as they recruit players from prison, utilize performance-enhancing drugs, pull the plug on injured teammates, and use other underhanded tactics to succeed.

"Super Blood Hockey is a love letter to the 8-bit and 16-bit ice hockey video games of my childhood, back when high action gameplay reigned supreme," explains the game's creator, Loren Lemcke. "Players can expect a modern reinterpretation of the classic arcade sports experience with the blood and violence dialled up to eleven."

About the game

Arcade sports gaming gets a shot of adrenaline in Super Blood Hockey, a violent homage to classic 8- and 16-bit ice hockey games. Customize your line-up and take to the ice, using fast-paced skills and bone-crunching brutality to dominate.

Prove your hockey prowess in a deadly global tournament or against friends in 4-player local multiplayer. Build and manage your own squad in Franchise Mode – with the right diet and performance enhancing drugs your team can be season champions!

Key Features

Use superior skating, positioning, strategy and blood-splattering violence
Take on the world in a global tournament, where failure results in execution
Varied challenges and scenarios, including Turbo Mode and 12 vs 12 Mega Rumble
Paint the ice with the blood of your friends in 4-player local multiplayer
Franchise Mode: Create, recruit and manage your own custom team of inmates in a futuristic world of dystopic blood sports
Enjoy the retro beats of an original soundtrack by chiptunist Shawn Daley
Source: PR Email