Sonic Mania goes packaged with Sonic Mania Plus! Mighty and Ray join as playable characters, new Encore mode, 4P Competition mode, Holographic packaging, 32-page art book, and more. Summer 2018. pic.twitter.com/4U74kJ7xuG

— Sonic the Hedgehog (@sonic_hedgehog) March 16, 2018
Are you ready to dive into a world where anything can be solved with money, money, money? We're here to introduce the faces you'll meet in the universe of Penny-Punching Princess, a hilarious isometric brawler that puts you in the shoes of Princess, who has been stripped of her throne by the Dragoloan Boss! Punch, bribe, and pay your way to victory in this game, where– wait, even some bosses can be bribed!?

The Character Trailer is out now, featuring Princess, her silver-tongued beetle butler, Sebastian, and the smelly-but-sweet zombie Isabella! Penny-Punching Princess arrives on Nintendo Switch™ and PS Vita (digital) on April 3 (NA/EU digital) and March 30 (EU).
Source: PR Email


Los Angeles, CA – March 15th,  2017 – Flying Tiger Entertainment presents the arcade hit, Bad Dudes; the second release, from Johnny Turbo's Arcade featuring classics by Data East™

Launching March 21st, 2018 for $7.99 in Americas, and March 22nd for € 7,99 in European territories.

"The President has been kidnapped by a ninja, are you bad enough?" – CIA Agent
Source: PR Email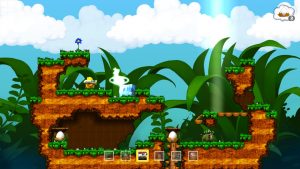 Two Tribes' classic egg-collecting puzzle game Toki Tori comes to Nintendo Switch™ on March 30th for just 4.99 $/€, with a 10% launch discount. Pre-orders start today in the Nintendo Switch eShop!

About Toki Tori

Join the millions of players who enjoyed this classic puzzle platformer, now on Nintendo Switch!

Take control of Toki Tori, a surprisingly heroic chicken, as he puzzles his way through 80+ levels spread over 5 unique worlds.

Toki Tori isn't very athletic, he can't even jump! Luckily he has some great tools at his disposal, including the Telewarp, Freeze-o-Matic and InstantRock™.

Creative thinking and problem solving are required to collect all eggs in each level, but don't worry! When you get stuck, you can always rewind the time. And if all else fails, use the Wildcard to skip a level.

Toki Tori for Switch is the most detailed portable version of the game so far. And at this price, why wouldn't you give it a go?

Classic egg-collecting puzzle platformer
80+ levels, 5 worlds, dozens of hours of gameplay
A wide variety of puzzle-solving items and weapons
Never get stuck: rewind the time or skip a level
Super smooth graphics at 60 fps
HD Rumble support
Video capture support
Source: PR Email
BRISBANE, QUEENSLAND – March 13, 2018 – Yonder: The Cloud Catcher Chronicles, the open-world adventure from the former Activision producer and Rocksteady veterans at Prideful Sloth where players explore the vibrant but troubled island of Gemea, is coming soon to the Nintendo Switch. A new feature-packed photo mode allowing you to share beautiful images of the world with your friends also debuts on the Switch.

Gemea is a land filled with natural delights. The luscious forests, quiet shores, and frozen peaks are home to adorable creatures such as Fabbits and Squombles. These wild wonders beckon to those with a penchant for exploration. When a curious dark miasma floods the flora and fauna, it's up to your hero to discover the origin of the strange substance. Create your own hero or heroine and embark on your journey of self-discovery across the gorgeous island and aid the people in need of your assistance.

Your hero quickly befriends the locals and discovers magical sprites that can dispel the dark energy known as Murk that plagues Gemea. Try your hand at farming, crafting, cooking, brewing, and fishing to create a sustainable lifestyle and help the people of the land.

Yonder's story is spread across eight distinct biomes, each with its own day/night and weather cycles, hidden sprites, unique animals to befriend, and quests to accomplish, all at the player's pace. There's always something to discover behind every corner. Relax and unwind with Yonder on the Nintendo Switch – at home on the couch, on the bus, or from the comfort of your bed with a nice hot cup of tea!

"The beauty of Yonder is in its calming pace and relaxing gameplay. You're free to explore the open world however you choose; it's a beautiful, safe, inviting world," said Cheryl Vance, co-founder and director at Prideful Sloth. "The Nintendo Switch lends itself to leisurely, comfortable play. It's a great home for the unique experiences that Yonder provides."

Yonder will be available digitally for $29.99 USD on the Nintendo eShop, and will be available via physical retail for $39.99.

Yonder: The Cloud Catcher Chronicles will be playable in English, French, Italian, German, Spanish, Japanese, Russian, and Brazilian Portuguese.

To learn more, please visit the official site, or follow the game on Twitter and Facebook.
Source: PR Email
March 2018, UK – Award-winning international games label Team17 and Denmark based independent developer Adrian Lazar today announced that the beautiful platform adventure game PLANET ALPHA has joined Team17's games label.

PLANET ALPHA is an atmospheric side-scrolling platform adventure game. Combining fast platforming, creative puzzles, stealth mechanics and a unique art style to create an unforgettable experience.

You awake on a strange alien world that is home to many mysterious, exotic flora and fauna. As you explore the world around you, you'll uncover the ability to rotate and control the planet. Is this world really as tranquil and serene as it first appears and what more will you discover?

Development on PLANET ALPHA initially took life in 2013 with Adrian Lazar working on the game solo in his spare time. In 2015 Lazar left his job at IO, having worked on Hitman (2017), Hitman:
Absolution and Kane and Lynch 2: Dog Days, to focus on the game full time and recruited a small international team to support development.

"PLANET ALPHA is the work of passion of a small but very ambitious team. We are building something special and we're putting everything we have into it. Developing the game for over 4
years has been a roller coaster, so when we looked for a publisher we were very selective.

"I am thrilled to have found in Team17 a partner who can offer us the resources that we need to bring this game to the players, but more importantly I'm excited to have a partner that truly believes in PLANET ALPHA as much as we do. I cannot wait to share our creation with the world," said Adrian Lazar, Creator of PLANET ALPHA.

Debbie Bestwick, MBE, CEO of Team17 added, "At their best video games can take us to different worlds on amazing journeys. The world that Adrian and his team have made is one that I want to
spend time in. It's such a pleasure to welcome PLANET ALPHA to the Team17 games label."

PLANET ALPHA is heading to Xbox One, PlayStation 4, Nintendo Switch™ and PC in 2018.
Source: PR Email
ROCHESTER, N.Y. – March 12, 2018 – Super Daryl Deluxe, the RPGvania with a brawler-style combat system and hand-drawn comic aesthetic from Dan & Gary Games, will proudly display its first pathetic attempt at facial hair on Nintendo Switch in addition to the previously announced upcoming PlayStation 4 and PC releases. Super Daryl Deluxe will make things weird and save the world on April 10, 2018.

Water Falls High School, of course, is a perfectly normal multidimensional high school. Its classrooms literally whisk students away to alternate worlds coinciding with their subjects, where kids can do anything from arguing the value of capitalism with Joseph Stalin in History to offering a fist bump to Oedipus in Literature. You know, just like every other school.

What's not normal are the missing students, the locked down classrooms, and the shadowy principal that no one has actually seen. Not to mention something about a secret that nearly destroyed the world 40 years ago.

Enter Daryl Whitelaw, the poorly-postured mouth-breather who just wants to make friends that has found himself the unlikely hero of this story. With the aid of a self-help book, Daryl can attain more than 45 powers, from thrashing enemies with an axe three times his weight to cleaning their faces up with a mop. Abilities can be customized and upgraded, making for endless playstyles and combinations.

While he's got combat covered, Daryl's going to need some help making friends. Luckily, he can complete side quests to increase his social rank, gain new passive abilities, and be less of a hopeless mess. Daryl can piece together some sweet gear to beef himself up, but at the end of the day he's still rocking his snazzy headband and mullet.

Fashion icon he's not, but it's up to Daryl to find out what's happening at Water Falls High School and what connection it has to that mysterious something or another that happened four decades ago. You know, the one that almost destroyed the world. Yeah, that one.

"Super Daryl Deluxe is a deep, explorative look into the male teenage psyche," says Gary Porter, Gary of Dan & Gary Games. "Nah, just kidding. It is pretty good, though. You should check it out before all your friends so you can tell them how great it is and how you played it before they did and how much better than them you are."

Super Daryl Deluxe will be available in English for $19.99 USD and €19.99.
Source: PR Email
VANCOUVER B.C., March 8, 2018 – During its latest Nintendo Direct presentation, Nintendo announced that the Super Smash Bros. franchise is coming to Nintendo Switch this year. The video also showcased more than a dozen upcoming games for both the Nintendo Switch system and the Nintendo 3DS family of systems, with many of the featured games coming from third-party developers, including SQUARE ENIX, Capcom, Grasshopper Manufacture, From Software and Ubisoft.

"Nintendo Switch and Nintendo 3DS are being propelled through 2018 with an energized lineup of games of all kinds," said Doug Bowser, Nintendo of America's Senior Vice President of Sales and Marketing. "These games contain a solid mix of first-party franchises starring some of Nintendo's most recognizable characters, acclaimed third-party titles and promising indies."

To view the Nintendo Direct video in its entirety, visit http://www.nintendo.com/nintendo-direct. Some of the highlights revealed in the video include:

Nintendo Switch

Nintendo Switch Super Smash Bros.(working title): The Super Smash Bros. series comes to Nintendo Switch in 2018. The teaser trailer featured recognizable faces like Mario, Link and the Inklings from the Splatoon series.
New Single-Player Expansion Coming to Splatoon 2: The first paid DLC is coming to Splatoon 2this summer. Splatoon 2: Octo Expansion adds a hefty new single-player mode that lets players play as new character Agent 8, an Octoling (!) with lost memories. The new single-player campaign features 80 missions, as well as new stories that shed new light on beloved characters. Players that complete the Octo Expansion campaign will unlock the ability to play as Octolings in multiplayer battles. While Splatoon 2: Octo Expansion launches this summer, players can pre-purchase the DLC starting today in Nintendo eShop to immediately receive Octo-themed in-game gear to use in battle right away. (The full version of the game is required to use DLC.)
Major Splatoon 2Update: In April, Splatoon 2 is getting a major free update (Version 3.0) that contains 100+ new pieces of gear, more stages rolling out throughout spring (Piranha Pit, Camp Triggerfish and Wahoo World) and a new rank (Rank X). Rank X is an extreme rank, even higher than S+.
Mario Tennis Aces: Unleash an arsenal of shots and strategies in all-out tennis battles with friends, family and fan-favourite Mushroom Kingdom characters. With up to four-player local (additional accessories may be required and are sold separately) and online* multiplayer, and a story mode that even includes creative boss battles, Mario Tennis Acesis one of the most robust Mario sports games yet. The intuitive and deep gameplay allows for exciting competitions in the living room or, really, anywhere using the power of Nintendo Switch. In Swing Mode, players can use their Joy-Con controllers like a tennis racket, swinging them to initiate the tennis swings in the game. Mario Tennis Aces launches exclusively for Nintendo Switch on 

June 22

.
Mario Tennis AcesPre-launch Online Tournament: More details will be revealed in the future, but a free Mario Tennis Aces demo is coming soon. For a limited time, players can try out online* tournament matches in the game before it launches. To participate, players just have to download the Pre-launch Online Tournament in Nintendo eShop on Nintendo Switch.
Kirby Star Allies: Kirby is coming to Nintendo Switch for the first time next week! As players make their way through the robust adventure, they will reach dream palaces where fan-favourite legacy characters can become Kirby's Dream Friends. Eventually, more Dream Friends will be added to the game through free updates. The first such update hits

March 28

 and adds classic characters Marx, Gooey and character set "Rick & Kine & Coo" to the game. Kirby Star Allies launches exclusively for Nintendo Switch on 

March 16

. A free demo for the game is currently available in Nintendo eShop.
Octopath Traveler: Producer Masashi Takahashi from SQUARE ENIX revealed new details about the upcoming RPG, including the final game name, Octopath Traveler, two more main characters (Tressa the Merchant and Alfyn the Apothecary) and the ability to equip multiple jobs per character for use in battle. Octopath Travelerlaunches exclusively for Nintendo Switch on 

July 13

. Octopath Traveler: Wayfarer's Edition, a special edition bundle that includes a stylized pop-up book, a helpful cloth map, the Octopath Traveler: Sound Selections CD and a replica coin based on the in-game currency, launches the same day.
Captain Toad: Treasure Tracker: Captain Toad: Treasure Tracker, which originally launched for Wii U, is coming to Nintendo Switch. The new version includes new miniature courses based on various Kingdoms in the Super Mario Odysseygame. Also, anyone can play with a friend or family member by sharing a pair of Joy-Con controllers. While one player controls Captain Toad, the other can assist with things like turnip cover fire. Captain Toad: Treasure Tracker launches for Nintendo Switch on 

July 13

. A Nintendo 3DS version of Captain Toad: Treasure Tracker, which includes stereoscopic 3D visuals and touch-screen controls, also launches on 

July 13

.
Crash Bandicoot Crashes Nintendo Switch: Crash Bandicoot N. Sane Trilogy, which includes remastered versions of the first three Crash Bandicootgames, launches for Nintendo Switch on 

July 10

.
Okami HD: The gorgeous and ethereal remake of classic action-adventure game Okamiis coming to Nintendo Switch. In the Nintendo Switch version of the game, players can use the touch screen in Handheld Mode or the Joy-Con motion controls in TV or Tabletop Mode to control the Celestial Brush to defeat enemies and solve puzzles. Okami HD launches in Nintendo eShop on Nintendo Switch this summer.
South Park: The Fractured But Whole: The South Park gang is back in an outrageously offensive superhero RPG adventure. And with Nintendo Switch, players can now drop into South Park anytime, anywhere. In addition to the main game, all of the game's add-on content will be available for purchase. South Park: The Fractured But Wholelaunches for Nintendo Switch on 

April 24

.
Sushi Striker: The Way of Sushido: Originally announced for Nintendo 3DS at last year's E3, Sushi Striker: The Way of Sushidois also coming to Nintendo Switch! The action puzzle game finds players devouring conveyor-belt sushi, matching plates and then throwing them to defeat enemies. The basics are simple, but the gameplay is deep … and tasty! In the game's multiplayer mode, players can even compete locally or online* against other players in intense matches. Sushi Striker: The Way of Sushido launches for both Nintendo Switch and Nintendo 3DS on 

June 8

.
DARK SOULS: REMASTERED: The remake of the genre-defining and beloved original DARK SOULSgame launches for Nintendo Switch on 

May 25

. On the same day, an amiibo figure based on Solaire of Astora will also be released. By tapping this amiibo, the popular "Praise the Sun" gesture can be used with reckless abandon from the start of the game. (The gesture can also be obtained through regular gameplay.) Players who want to take the game for a spin can participate in a "network test." The free network test launches in Nintendo eShop, and will allow players to download and play a part of DARK SOULS: REMASTERED before it launches to try out the gameplay and unique online features. More details about the network test will be revealed soon.

Travis Strikes Again: No More Heroes: When Travis Touchdown wanders into the game world, he goes on a rampage of epic proportions. The latest title in the cult classic No More Heroesseries contains a total of seven game titles, including an action game, racing game and puzzle game. By using another Joy-Con controller, two players can team up for co-op multiplayer action. Travis Strikes Again: No More Heroes launches exclusively for Nintendo Switch this year.
Little Nightmares: Complete Edition: From award-winning developer Tarsier Studios comes Little Nightmares, a charmingly horrific puzzle-platforming adventure. The Complete Edition contains the two haunting tales of Six and The Runaway Kid in one package. You can even tap the PAC-MAN amiibo figure (sold separately) to unlock the Pakku Mask when playing. Little Nightmares: Complete Edition launches on 

May 18

.
UNDERTALE: The million-selling role-playing game in which nobody has to die is headed to Nintendo Switch. Launch details will arrive at a later date.
Hyrule Warriors: Definitive Edition: The definitive edition (it's in the title!) of Hyrule Warriorsbrings together dozens of characters from the Legend of Zelda series in an over-the-top action game. The game launches for Nintendo Switch on 

May 18

.
ARMS US & Canada Online Open Tournament**: Players who want to show off their ARMS skills will be able to enter the ARMS US & Canada Online Open Tournament, which takes place in the Nintendo Switch game's Ranked Match mode now through 

March 18

. The eight top players in these preliminary rounds will have an opportunity to move on to the online finals on 

March 31

. The finals will be streamed live from Nintendo of America HQ at https://arms.nintendo.com/videos/.
ARMSTestpunch: A new global Testpunch for the ARMS game, which lets Nintendo Switch owners try out select modes for free, will be running for three days starting on 

March 31

. To participate, players just have to download the Testpunch in Nintendo eShop on Nintendo Switch.

Nintendo 3DS

Remember that Nintendo Switch and the Nintendo 3DS family of systems feature parental controls that let adults manage the content their children can access. For more information about other features, visit https://www.nintendo.com/en_CA/switch/ or https://www.nintendo.com/en_CA/3ds/.

*Nintendo Account is required. Online services and features, including online gameplay, are free until the paid Nintendo Switch Online Service launches in September 2018.

**NO PURCHASE NECESSARY. Open to legal residents of US and CAN; high-speed internet required. Qualifier Period begins 3/8/18 at 5PM PT and ends 3/18/18 at 4:59PM PT. To participate, play at least 50 matches in Ranked Matchduring Qualifier Period (Ranked Match only available after you beat Grand Prix). Based on ARMS in-game ranking system and winning percentages during Qualifier Period, 8 Finalists and 4 Alternates will be selected to be available to participate in Finals to be held 3/31/18. Winner of Finals will get 1 color artwork (ARV $125). Other Finalists and Alternates will get 1 artwork (ARV $50 each). Odds of winning depend on no. of participants. Restrictions apply. Visit https://arms.nintendo.com/rules.pdf and https://arms.nintendo.com/fr/rules.pdf for additional details and full rules. Sponsor: Nintendo of America Inc.

About Nintendo: The worldwide pioneer in the creation of interactive entertainment, Nintendo Co., Ltd., of Kyoto, Japan, manufactures and markets hardware and software for its Nintendo Switch™ system and the Nintendo 3DS™ family of portable systems. Since 1983, when it launched the Nintendo Entertainment System™, Nintendo has sold more than 4.5 billion video games and more than 710 million hardware units globally, including Nintendo Switch and the Nintendo 3DS family of systems, as well as the Game Boy™, Game Boy Advance, Nintendo DS™ family of systems, Super NES™, Nintendo 64™, Nintendo GameCube™, Wii™ and Wii U™ systems. It has also created industry icons that have become well-known, household names, such as Mario, Donkey Kong, Metroid, Zelda and Pokémon. A wholly owned subsidiary, Nintendo of America Inc., based in Redmond, Wash., serves as headquarters for Nintendo's operations in the Americas. For more information about Nintendo, please visit the company's website at https://www.nintendo.ca/.
Source: PR Email