Stuttgart, November 8 2019 – 33 years after the debut of the classic video game Bubble Bobble by TAITO, the two dragons Bub and Bob are returning to the screens. On November 19, 2019, Bubble Bobble 4 Friends will be released digitally in Europe and Australasia, exclusively for Nintendo Switch. On the same day, the physical version will be available in stores throughout Europe. North and South American digital Nintendo eShop releases Q1 2020

As previously announced, there will also be a Special Edition that comes with two keychains, a poster and four trading cards – this very special edition of Bubble Bobble 4 Friends will be available on December 13th, while stocks last.

Publisher ININ today announced new details on the EXTEND feature. This is a new skill upgrade system that will allow players to boost their dragons with additional features. To unlock the upgrades, players will need to collect letter bubbles, each containing one of the letters of the word "EXTEND". In every stage, one of those special letter bubbles appears briefly and has to be collected before it bursts. If the player manages to collect all letters of the word "EXTEND" within a world and also win the boss battle, the player will receive either a new skill or an upgrade to an existing skill to become even more powerful.

The following skills can be unlocked:

Long Shot: increases the range of the bubbles
Thunder Bubble: attacks enemies in a horizontal line when bubble bursts
Bomb Bubble: The bubble explodes after some time and causes damage.
Stop Wind: air flows are interrupted for a short time
Dash Skill: lets characters pass through enemies unharmed

Before entering a new world, players can equip their dragons with the skills they've learned so far, using a variety of tactical variations to master even the most difficult stages and clear a stage particularly quickly.

Apart from skills, there are other features that increase the replay value of Bubble Bobble 4 Friends and spur players on to ever wilder manoeuvres. Chain reactions from multiple bursted bubbles with captured enemies generate more and higher quality food for players to collect – the higher the number of bubbles, the more points and food you get as a reward. Special bubbles, such as bomb or lightning bubbles, provide new aspects of the game and tactics.

ININ has also built a new website for the cult game with helpful information on where to buy, the history of Bubble Bobble since 1986 as well as plenty of background information.

As a special gift for the fans, there will be desktop pc and mobile wallpapers ready to download. The design team from Taito has put a lot of effort into these wallpapers, to make sure that they look great on various devices.

Collectors from all over the world will also be delighted by the commemorative releases from Strictly Limited. A few copies of the very extensive Collector's Edition of Bubble Bobble 4 Friends can still be pre-ordered from the Strictly Limited Games online store at a price of 89.99 Euro. The Collectors Edition is limited to only 2500 Units. The Standard Edition is limited to 3500 units and offers a beautiful retro-style cover and an individual numbering on each copy, and is available for 39,99 Euro. Both editions will come with a very special Acrylic Print of Bub or Bob as an exclusive bonus item.
Source: PR Email
Paris, November 8, 2019 – Microids and Eden Games are proud to announce the imminent release of Gear.Club Unlimited 2 Porsche Edition on Nintendo Switch.

Do you have what it takes to cross the finish line as a winner? Gear.Club Unlimited 2 Porsche Edition will be available November 19, 2019 on Nintendo Switch in North America.

Following the release of two iterations, Gear.Club Unlimited 2 Porsche Edition will soon offer the racing fans a one way ticket to a gigantic playground where they'll be getting up close and personal with more legendary sports cars than ever before. In addition to the 3 Porsche already available in Gear.Club Unlimited 2, this new game will feature 3 exclusive models. The two first ones can be acquired by the players using their hard earned in-game money. The last one, by finishing in pole position during the Porsche Series:

718 Type 982 Cayman GT4
911 Type 992 Carrera
911 Turbo Type 930

Owners of Gear.Club Unlimited 2 will be able to get the Porsche Edition content on the Nintendo eshop:

North America: Item by item
Europe and Australia: Porsche Edition bundle

Gear.Club Unlimited 2 Porsche Edition exclusive content:

A new campaign mode: the « Porsche Series » and its seasonal Flow
Mythical Porsche cars from the famous German manufacturer playable in all game modes
All Gear.Club Unlimited 2's previously released DLCs

DLCs content:

Arrows Pack
▪ Ford Mustang Police
▪ Alfa Romeo 8C Competizione Ahoy
▪ Jaguar F-Type R Elite GTS
▪ Stickers Board "Arrows"
Checker Pack
▪ BMW M4 Coupe Wave
▪ Dodge Challenger Menthol Green
▪ Lotus Exige S English Racing
▪ Stickers Board "Checker"
Hazard Pack
▪ Challenger Sherif
▪ BMW Z4 Rodster Red Camo
▪ Mercedes-AMG C 63 S Coupé Paint Stroke
▪ Sticker Board "Hazard"
Wings Pack
▪ BMW M4 Coupé Loyal 1
▪ McLaren 570S Humble Bee
▪ Ruf CTR 3 Model 03
▪ Sticker Board "Wings"
Free Pack
▪ Dodge Challenger Shark Fin
▪ Ford Mustang GT 2015 GT 300

Game Features:

Genre: Racing
Players: 1-4 players splitscreen // 1-8 players local Lan // 1-8 players online
Language: English, French, Italian, German, Spanish, Dutch, Russian, Korean, Portuguese, Japanese, Traditional Chinese
Release date: November 14th, 2019
Developed by: Eden Games
Published by: Microids
Support: Nintendo Switch
Ratings: PEGI 3 – ESRB E for everyone – USK 0
Source: PR Email
November 8th, Warsaw, Poland – Ever wanted to kickflip a car? Get behind the wheel and skate on futuristic tracks. REKT is a high octane version of classic Pro Skater games.

You can do flips, loops, barrel rolls or combine them to get the best score! Thanks to the great physics model performing spectacular tricks is easy yet is hard to master.

It's available today on Nintendo Switch!

About REKT:

In quick single-player sessions, you get various sets of tasks – completing them unlocks new cars and customization options. All that in High Score mode wherein limited time you must get as many points as you can, like in old-school arcades. The better score you get, the higher ranking you achieve in global leaderboard! You can always go to Practice mode to test your skills and learn how to perform better stunts.

Get a couch, up to four friends and engage in crazy multiplayer battles to take the crown as the ultimate REKT! driver! Play Capture the Crown and see who keeps the crown the longest! Infect other players in Virus. Fight for the title of the fastest racer in Baja. Or take three friends and simultaneously fight for points in Score!

Features:

Stunts, lots of 'em!
Three main arenas to do stunts in
Time-limited High Score mode with global leaderboard
Practice mode to test skills and learn new tricks
Over fifty customizable cars to unlock
An almost endless amount of challenges
Up to four players in different multiplayer modes: Score, Virus, Baja, Capture the Crown.
Source: PR Email
Krakow, Poland – November 7th – Launching today, Ritual: Crown of Horns fires out a volley of tactically weird western action on both PC and Switch after spending the last few months in Early Access on Steam. With the help of some wonderful user feedback, the team has managed to get the guns oiled, the incantations perfected, and the dusters laundered, meaning the game is finally ready to head out on that full release trail. Early players of Ritual: Crown of Horns have been praising its dark and dusty atmospheric presentation and focus on gut instinct and careful play over simple spraying and praying.

Working with Draw Distance was pure pleasure and so is releasing Ritual: Crown of Horns to the public. The game has underwent huge improvements from the latest Steam Early Access build thanks to the tireless work of the developer who strived for anything but perfection. I feel they nailed the feeling of being a bad-ass gunslinger in the Weird West and I hope people who love action games will fall in love with the game as we did. – Rafal Basaj, CEO, Feardemic

Ritual: Crown of Horns releases today on on both the Nintendo Switch and on Windows via Steam for $19.99 USD, though the game is currently 20% off until November 11th on Switch and November 15th on Steam.

Players on Nintendo Switch can also expect a patch very soon, which will add the support for French, German, Italian, Spanish and Russian languages to the game.

About Ritual: Crown of Horns

Ritual: Crown of Horns is a slaughterhouse: a fast-paced action game set in an alternate Wild West, a demonic version of a hellish frontier. This arcade-inspired title unravels a tale about an unlikely duo: a bounty hunter who comes back from beyond the grave, yearning to exact revenge on his killers and a witch who aids him with a series of powerful rituals to further her own agenda.

Push back hordes of enemies, while the witch performs her ritual. Work a varied arsenal of firearms to your advantage: mindfully swapping between weapons and spells. Unlock new tools and powerful items which boost your gunslingers stats and changes their look. Travel throughout the Weird West picking your missions and planning future unlocks to finally exact your revenge!

Ritual: Crown of Horns is a skill based game, where split-second decisions and planning on the go are more powerful than button mashing and throwing yourself mindlessly at enemies.

Features:

Unique auto-aiming system
A satisfying arsenal at your disposal such as shotguns, six-shooters, rifles, crossbows, and a few surprises that are a little less era-appropriate.
Outrageous enemies to fight including brainwashed cultists, supernatural legendary creatures, bizarre murderous contraptions
Creative spells and power-ups that can violently alter the way you approach each combat encounter.
Unique Gothic Horror meets Weird Western artstyle.
Source: PR Email
Paris – November 7, 2019 – Today, Microids and Paws, Inc. are delighted to announce the European release of Garfield Kart Furious Racing on PlayStation 4, Xbox One, Nintendo Switch. The game is also available worldwide today on Steam!

Garfield Kart Furious Racing will launch November 19 in North America on all consoles.

Bring your family and friends together for up to 8 players online craziness and up to 4 players split screen action on PC, Xbox One and PlayStation 4. The Nintendo Switch version will allow 2 players to play in split screen mode, but players can take advantage of local, wireless connection to connect up to 8 consoles!

Three game modes will be available to please even the toughest of drivers: Grand Prix, Single Race and Time Trial.
Source: PR Email
Manchester, UK – Nov 7th, 2019 — Merge are delighted to announce that Sparklite is now available to pre-order on Nintendo Switch & Xbox One. Ahead of the November 14th launch on Switch, Xbox One, PS4, and PC, Merge Games will also be giving players a taste of what to expect in the top-down action adventure with the Sparklite Steam demo early next week!

The upcoming demo was the first unlock in the Steam Wishlist promotion, where Red Blue Games and Merge reward excited fans with content as more add Sparklite to their wishlists. Fans of Sparklite will also soon have access to a Hi-Res Wallpaper.

Sparklite will be available to purchase on the Nintendo eShop, PSN store, Xbox Games Store and Steam on November 14th, and is now available to pre-order from the Nintendo eShop and the Xbox Games Store. Sparklite will be priced at £19.99 & $/€24.99 and have an introductory 15% discount on platforms during the following periods:

Nintendo eShop 15% November 7th to November 20th
PSN store 15% November 14th to November 20th
Xbox Games Store 15% November 7th to November 20th
Steam 15% November 14th to November 20th.

About Sparklite

Sparklite is an action-adventure set in a whimsical, ever-changing land and is inspired by classic titles like The Legend of Zelda. As Ada, players will solve puzzles and battle foes in top-down action using an arsenal of gadgets, guns, and gear. Explore dangerous corners of the procedurally generated world, take down titans of the mining industry, and harness the power of Sparklite! As featured in Nintendo's Indie World Showcase alongside unveilings across PAX events such as [email protected], 'The Mix Seattle', 'Kinda Funny' Showcase, as well as the 'Monsters of Indie' Superstar Dev Panel, Sparklite continues to make an impact as a must-play indie game in 2019.
Source: PR Email
PHILADELPHIA — Nov. 7, 2019 — Jamestown+, the beloved top-down four-player retro shooter set on British Colonial Mars from Final Form Games, enters the atmosphere on Nintendo Switch™ and PC via Steam December 12. All updates and improvements debuting in the plus edition will also come as a free update to the PlayStation®4 version.

Jamestown+ adds to the original classic with new content including two levels on Mars' moons, starring dangerous alien insectoids and pirate cyber-crabs led by a Human Queen, and four new ships allowing for 36 unique weapon configurations. Countless improvements including new background and enemy artwork, level layout and bullet pattern tweaks, and remastered 5.1 surround sound music and effects make this the definitive version of everyone's favorite futuristic Alt-History shmup.

Strap in for a rocket-fueled, bewilderingly imaginative adventure across 17th-Century Mars and her moons. Escaping a death sentence on Earth, Sir Walter Raleigh sets a course for Mars, home to his only refuge: Jamestown. Absolve Sir Walter by uncovering the truth behind the disappearance of Roanoke and defending the good peoples of the New World from a Conquistador hellbent on conquering the colonies using an ancient, terrible power.

Soar through the skies aboard one of twelve Conveyances, rocket-sleds with mighty weapons. Tear through oncoming enemies with the simple but reliable Beam ship. Experiment with the Ghost ship, capable of summoning a duplicate ship to maintain support fire while daring pilots get up close and personal with the legendary sword Excalibur. Roll the dice with the Fortune ship, which mimics other ships after death and requires a high degree of adaptability.

Rise up and rebel against the malevolent Conquistador and his army of robots and Martian Warriors by weaving through streams of bullets. Dodge, dip and dive out of the way while fighting to end tyranny on Mars. Every aspect of Jamestown+ — from lush pixel landscapes to enemy design to gameplay mechanics— was hand-designed with an emphasis on presenting something fresh every 10-15 seconds. An emotionally-stirring orchestral score raises the stakes and makes victory all the sweeter.

This adventure need not be faced alone. Join forces with up to three other players of any skill level – Jamestown+ is always better with a friend. Final Form Games specifically focused on making co-op harmonious, so Jamestown+ can be as beginner-friendly or tough-as-nails as a group prefers, but always requires only three buttons. Fire, Special Attack, and Vaunt, a shield capable of emergency protection and score amplification. Ascend the leaderboards and try Judgement difficulty for the pinnacle challenge.

"Jamestown is best when played with a full squad, so we designed it to be approachable to anyone," said Tim Ambrogi co-founder of Final Form Games. "Our game has something for everyone, so why not call up some friends or family and have a wonderful night on Mars?"

Jamestown+ comes to Nintendo Switch and PC via Steam December 12 for $17.99. The game will be available for pre-order on the Nintendo Switch eShop on November 28 for just under $15, at a 17% discount. The PlayStation 4 version will receive the same updates when the Switch and PC versions launch.
Source: PR Email
TOKYO – Nov. 7, 2019 – Sony Music Entertainment (Japan) publishing label UNTIES today releases Tokyo Dark -Remembrance-, the anime-style murder mystery merging visual novel and adventure features, on Nintendo Switch™. PlayStation 4™ sleuths will join the macabre investigation at a date to be announced.

The plot thickens with the release of -Remembrance-, which developers Cherrymochi and mebius. have rebuilt entirely in a new engine. Colorful animated sequences by Breath of the Wild, Xenoblade Chronicles X, and Hellsing Ultimate animation studio Graphinica bring to life the dark horror scenery of a crime-riddled Tokyo. Additional content and more endings for the branching narrative round out this ultimate edition of Tokyo Dark.

The disappearance of Detective Ito Ayami's partner isn't the only unsettling occurrence plaguing Japan's capital city. Strange symbols and a mysterious masked figure have popped up all over its many districts. Ito must delve into the city's seedy underbelly to uncover the truth behind the supernatural occurrences and find her friend before it is too late.

Ito's actions and decisions are tracked by the S.P.I.N (Sanity, Professionalism, Investigation, Neurosis) system, which affects character interactions and available story paths. Playing by the rules might keep her in good standing with her fellow police officers and open up favors to aid the investigation, while often resorting to violence could irreparably turn citizens against her, closing paths further down the line.

"Tokyo Dark -Remembrance- emphasizes balancing opposing forces mechanically, visually and thematically," said Mao Mitani, G&R Representative, UNTIES. "The developers have perfected the core ideas with the Switch and upcoming PlayStation 4 releases, taking Ito's journey to even more chilling places with innovative systems tracking every in-game action."

Tokyo Dark -Remembrance- is available now on Nintendo Switch for 20% off the regular price of $19.99 USD/€17.99 until Nov. 13. English and German are supported in text only, with voice acting also available in Japanese.
Source: PR Email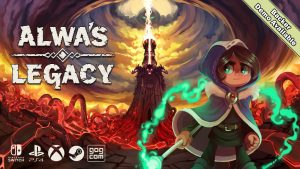 We're happy to finally be able to announce our entirely new game Alwa's Legacy. It's a passion project that we've been working on for more than a year and a half and it feels great to be able to share more details about the game and how it plays.

Alwa's Legacy is a modern retro game full of dangerous dungeons, magical items and ancient secrets. By upgrading your magic, any way forward is right in this non-linear adventure game full of exploration.

Our Kickstarter is live now and we need all the help we can get!

Our first game was a small hobby game that turned into an indie success and Alwa's Legacy is being made by the same core team. But in order to finish a bigger game, we needed a bigger team so we had to hire three more artists to come work with us. There's no need to have played Alwa's Awakening in order to enjoy Alwa's Legacy. They are both standalone experiences and can be enjoyed separately.
Source: PR Email
TORONTO – November 6, 2019 – Riverbond, the shoot-and-slash dungeon crawler with solo and couch co-op play from Cococucumber, sets out for adventure on Nintendo Switch Dec. 10, 2019 with a new world and Spelunky crossover skin, simultaneously coming to Xbox One, PlayStation 4, and Steam for PC as a free update.

The cute characters, vibrant worlds, and streamlined action of Riverbond are perfect for all ages, at home or on-the-go. Bust up enemy creatures and whimsical bosses on a solo or co-op quest for up to four players. Master quirky melee and ranged weapons like giant sticks of ham or powerful ray guns. Delve deeper into a world of colorful cubes just waiting to be smashed. Each area boasts a new objective and ever-better loot awaits those brave enough to face the challenge.

An ethereal adventure awaits on Switch, as the new Crystalwatch levels add a brilliant fantasy world of fearsome lizard foes and peaceful badger monks. Explore nine worlds as dozens of charming character skins, including indie crossovers like Spelunky Guy from Spelunky, who joins Raz Aquato from Psychonauts, The Kid from Bastion, Shovel Knight, and more.

From mysterious airborne castles to haunting underground caverns, Riverbond's eclectic world welcomes would-be adventurers with diverse environments to explore. Composers Mike Rocha and Ryan Roth (Void Bastards, The Beginner's Guide, Starseed Pilgrim) punctuates the proceedings with a dramatic, synthesized score elevating the action to thrilling heights.

"We're inspired by cooperative RPGs and classic action games of yesteryears and look forward to welcoming players with a wonderful and spirited adventure," said Vanessa Chia, Co-Founder and Art Director, Cococucumber. "Riverbond marries the fast-paced action we're so nostalgic for with modern gameplay and drop-in-drop-out co-op and, giving friends and families dazzling new worlds to explore together on Nintendo Switch."

Riverbond will release Dec. 10, 2019 for $24.99 USD/€ 21.99 on Nintendo Switch, joining the PlayStation 4, Xbox One, and Steam for PC platforms with game updates and the Spelunky Guy crossover skin debuting on all systems. A 20% discount will also be available on all platforms at launch. Riverbond is available in English, French, Italian, German, Spanish, Russian, Polish, Spanish (Latin America), Brazilian Portuguese, Simplified Chinese, Japanese and Korean.
Source: PR Email