ININ and Taito are pleased to announce some exciting news that fans of Bubble Bobble, as well as those new to the franchise, should not miss.

Bubble Bobble 4 Friends, developed by the original studio, TAITO Corporation, and exclusively released on Nintendo Switch, is released today in North and South America. All gamers worldwide will be excited to know that those who purchase the game will be able to download later in the year new must-have content, for free, and that includes European or Australian Nintendo gamers who got their fix of Bubble Bobble 4 Friends since the end of 2019.

Expanding Bubbles being created

Taito are currently developing and expanding the game's content to deliver everything fans' wish for, including new stages and the return of a fan-favourite enemy character – "Baron von Blubba'. More news on this, and additional upcoming features, will be revealed in the coming weeks and months.

Taito's latest instalment of this all-time classic since their return to the home console market has been warmly received by fans and critics worldwide. The development team wanted to create something that can be enjoyed not only by fans of the IP who grew up with the two cute Bubble Dragon Twins Bub and Bob but also with their family and friends. It was important to capture the spirit of the colourful original and to bring it to Switch.

Switch on to Bub & Bob

As the Bubble Bobble IP is something very dear to Taito, they listened closely to the feedback they were given so far.  It was only natural that the team would not rest on their laurels and to make sure that players would be able to enjoy Bubble Bobble for many weeks to come. They are working hard to develop deeper and more challenging content that will definitely be going to please gamers all around the globe.

Play alone or with up to 3 friends in couch co-op mode and jump your bubble dragons through 100 levels to defy the wicked wizard Bonner and his henchmen. The bubbles don't just let you trap your opponents, either – your dragons can also jump on them to reach higher platforms.

Collect E-X-T-E-N-D bubbles to activate and upgrade skills, such as lightning and bomb bubbles. Develop countless new strategies to travel through the worlds and take advantage of air currents.

The original Bubble Bobble arcade game from 1986 is also included, which captured the hearts of players around the world and still has fans humming its title melody today.

A celebration for fans and fun for the whole family!
Soure: PR Email
void tRrLM(); //Void Terrarium will release on PlayStation 4 and Nintendo Switch on July 14 for North America, July 10 for Europe, and July 17 for Oceania. The survival of the last human on Earth, Toriko, depends on you. Venture into the toxic wastes to gather resources and provide a suitable environment for her…humanity depends on it!
Source: PR Email
Paris, March 27th, 2020 – The Kingdom franchise is hitting retail under the name of Kingdom Majestic, coming out 18th of June 2020 for PlayStation 4, Xbox One and Nintendo Switch! This compilation features the 2016 game «Kingdom New Lands» and the 2018 «Kingdom Two Crowns» and will include all content released for both titles since their original launches.

A critically acclaimed and massive commercial success, the Kingdom franchise is beloved for its innovative gameplay based on a minimalistic 3 button mechanic, stunning pixel art, and an evocative soundtrack. Veteran rulers also know that feeling of cold sweat caused by the creatures of the night threatening your kingdom from dusk to dawn! For these reasons and many more, the Kingdom franchise won the Gamescom Best of Indie Arena award and was picked by Destructoid as one of their favorite games of the show.

The publisher Microids – under its new games label «Microids Indie» – is joining forces with publisher Raw Fury to bring Kingdom Majestic to market! Playable in both single-player and split screen co-op mode – online on PS4 and Xbox One and offline on all platforms – Kingdom Majestic is being unveiled today with a trailer and the compilation's content.

«The Kingdom series has once again proved to us that pixel art and 2D still can bring some freshness and innovation. Strategy games aficionados will be delighted as Kingdom embodies the best of the best of what indie devs have to offer.» says Vincent Dondaine, VP of the Microids Indie label.

Kingdom Majestic is the first title published under the «Microids Indie» games label created at the end of 2019. The label's goal is to help indies and small studios to bring their game to market thanks to the Microids know-how in terms of publishing, marketing, communication and sales.

By betting on indie studios creativity, Microids wants to expand its reach and offer new experiences to its existing community! The French publisher is proud and happy to kick start its new label with this beautiful partnership.

The Kingdom Majestic Standard Edition will include the full game and a reversible cover, soon to be unveiled.
Source: PR Email
IRVINE, Calif – March 26, 2020 – Newly announced via Nintendo Direct, the acclaimed cult classic Catherine: Full Body makes its way to the Nintendo Switch system this July 7!

Sample a taste of the nightmare through the announcement trailer!

Catherine: Full Body is a gripping, action-adventure puzzler that features a mature story about complex relationships and difficult choices. Our story centers around commitment phobic Vincent, who is at a crossroads of taking the next step in his long-term relationship or leaving it all behind. Succumbing to the temptation of a new romance, Vincent then finds himself trapped in a recurring nightmare of a crumbling tower of puzzle blocks he must climb to survive to see another day…

Key Features:

This mature action-adventure puzzler will thrill players with a story that delves into relationships and the difficult choices we make
Choices that will determine your fate in multiple story branches and 13 available endings
Overcome challenging and addictive puzzles to survive the nightmare
Play on the go: whether it's Versus or Co-op mode, it's never a baaaa-d time to play with your friends
Original Catherine: Full Body add-on content now included in game (Catherine 'Ideal Voice' Set, Playable Character Set, Persona 5 Joker Character & Commentary Set, Bonus Content: Horn-Rimmed Glasses)

Wishlist Catherine: Full Body on the Nintendo eShop now or pre-order from your local retailer to claim a bonus Sheep Keychain while supplies last!

Launch Edition – $49.99

Sheep Keychain while supplies last
Source: PR Email
Trails of Cold Steel III on Nintendo Switch will release on June 30 in North America and Europe and July 7 in Oceania! A free demo is available to download on Nintendo eShop. Experience the legend of Class VII and carry over save data to the full game upon release!
Source: PR Email
SYDNEY – March 26, 2020 – Obey Me, the cooperative holypunk brawler from Blowfish Studios and Error 404 Game Studios, unleashes righteous fury onto PlayStation 4, Xbox One and Windows PC on April 21, 2020, with a Nintendo Switch version coming later this year.

Angels and demons are locked in an endless war. The two forces have locked horns for eons, with humankind's souls hanging in the balance. Set against this apocalyptic backdrop, Vanessa Held, a human turned into a lesser demon, and her ferocious-yet-faithful hellhound, Monty, find themselves at the center of a conspiracy that may alter the fate of the world.

Vanessa and Monty will encounter all kinds of fiends and mechanical contraptions on their path to uncover a truth that could tip the balance of the war. Fortunately, the duo is more than prepared to fight back. Unleash devilish combos with Vanessa's demon-blessed weapon skills and warp ability as Monty charges into the fray. Use infernal powers to absorb enemies' souls, unlock dynamic combos, abilities, weapon upgrades, and transformations for Monty.

Battle through waves of otherworldly denizens either alone or with a co-op partner. Take the reigns as Vanessa while the AI controls Monty or grab a trusted friend to sic the hellhound on anyone that stands in the duo's way. Unlock hidden potential by combining the pair's distinct powers through the Trigger System, Fusion Mode, or the jaw-dropping Soul Overload attack.

Obey Me fans can also dive deeper into the lore and narrative off the screen with a series of graphic novels published by Dynamite Comics. Featuring art by acclaimed Marvel veteran artist Ben Herrera, the Obey Me comic series explores the first time Vanessa and Monty work together, giving readers insight into the game's characters and fantastical world.

"Obey Me features a haunting world and chaotic, action-packed gameplay that's an absolute blast in co-op," said Ben Lee, CEO, Blowfish Studios. "We're all thrilled to unleash the opening salvo in this epic showdown between Heaven and Hell on April 21."

Obey Me releases for PlayStation 4, Xbox One, and Windows PC on April 21, 2020 for $19.99 / £17.99 / €15.99 / $24.99 AUD with English, French, German, and Spanish language options. The Nintendo Switch version will be available later this year.
Source: PR Email
Melbourne, Australia – March 24, 2020 — Fellow Traveller and Jump Over the Age are thrilled to announce that In Other Waters will launch for PC, Mac, and Nintendo Switch on April 3rd, 2020. Preorders for the Nintendo Switch version of In Other Waters start today, March 24, 2020. In Other Waters costs $14.99 USD. There is a 10% discount for pre-orders that runs now through launch week until April 10.

In Other Waters is a unique narrative adventure that puts players in the role of an AI assistant revealing the mysteries of the turquoise depths of an alien ocean. Xenobiologist Ellery Vas is searching for her missing partner on the planet Gliese 677Cc. Equipped with a malfunctioning dive suit possessed by a strange AI unit, Ellery discovers extraterrestrial life and an ocean full of secrets.

In Other Waters, the 2019 IndieCade Europe Jury Prix award winner, is sci-fi without soldiers and violence focusing instead on wonder and exploration, fear and vulnerability, and the relationship between a long-dormant AI and its human pilot. The relationship between the AI and the operator unfolds over an impactful narrative uniquely interpreted by the player. The depths of Gliese 677Cc contain many secrets. For life to continue, it must change. What will you discover as you track, sample and learn about life inside this alien ocean?

Developed by Gareth Damian Martin, the one-man team behind Jump Over The Age. An accomplished games journalist whose work can be found at Eurogamer, Kotaku, US Gamer, and more, Gareth is also an artist, game designer, and writer.

Features

Explore an Alien Ocean: Freely dive into an expansive section of seafloor, from shimmering reefs to inky depths. Unlock upgrades and make discoveries that allow you to open up new paths, uncovering strange creatures and environments as you do.
See the World Through an AI Lens: Navigate an elegant, intuitive UI via touch or mouse controls. Interpret signals, set headings, and map the ocean through experimentation and intuition.
Become a Xenobiologist: Discover and catalogue species through observation, scanning, taking samples, and interacting with alien life. Read Ellery's notes, look at her sketches, and help her classify an entirely new ecosystem.
Plan Your Dives: Choose whether to study creatures, investigate secrets or dive new areas, then come back to your base to study samples in the lab, chat to Ellery or read her journals to understand more about this world.
Build a Lasting Relationship: Through limited communication learn more about the person whose suit you inhabit, and help guide her towards a terrible truth. What you experience together will bring you closer.

Coming to PC and Nintendo Switch on April 3, 2020.

Preorders for the Nintendo Switch version of In Other Waters start March 24, 2020.
Source: PR Email
If you were around in the 1980s, you were no stranger to the Video Arcade scene. Kids and adults alike would gather at their local Arcades to compete for the top score of their favorite video games. Some of these games included Donkey Kong, Space Invaders, Dragon's Lair, and Pac-Man. In 1986, TAITO released Bubble Bobble to the arcade scene, a challenging co-op platformer which became a huge success. The game included 100+ stages, secret levels, various power-ups, and multiple endings for the player to uncover.
With the release of Bubble Bobble 4 Friends, TAITO aims to bring the joy the bubble busting back with their new entry in the beloved Bubble Bobble series for 1-4 players. The game uses cute 3D models, reworked music, and brand new stages. TAITO also included the original arcade release of Bubble Bobble for those wanting to play the cult-classic that started it all.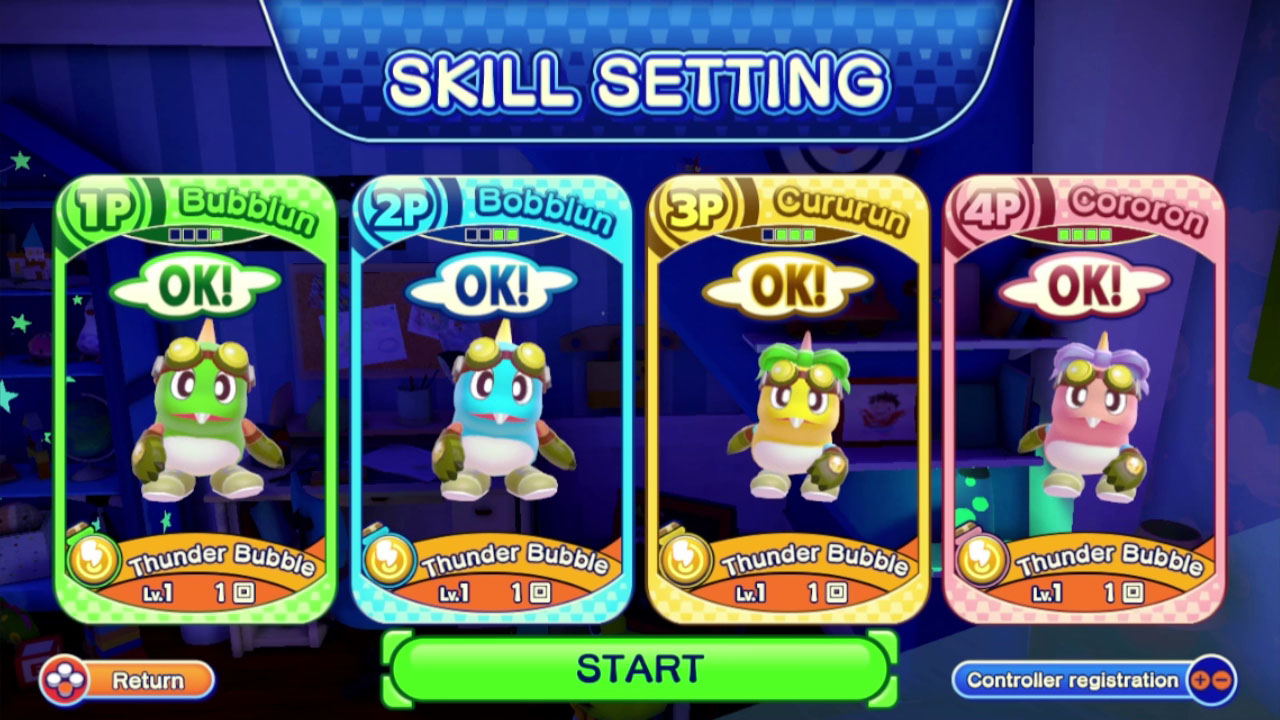 The game starts off showing you the night sky, with the camera then moving backwards into a child's bedroom via an outside window. You can see the classic Bubble Bobble arcade machine at 1 end of the room, along with some toys on the ground and someone sleeping in the bed at the other end. You can also spot Bub and Bonner laying on the bed. After some glowing lights fly through the bedroom window, a couple bubbles enter the room and hit the 2 dolls. A few moments later, Bonner awakens and strikes Bub on the head. Bub proceeds to jump off the bed, which then brings us to the world selection screen.
Bubble Bobble 4 Friends is made up of 5 worlds, each containing 9 normal stages and 1 boss stage. While progressing through each world, players will come across various letters trapped in bobbles. If you manage to pop the letters before they disappear, you'll end up spelling the word EXTEND. When you did this in the original game, you were granted an extra life. With Bubble Bobble 4 Friends, each collected letter provides 1 extra life. When you spell the whole word, something special happens but we won't spoil the surprise for you. You'll also earn up to 3 stars in each world, depending how well you've performed.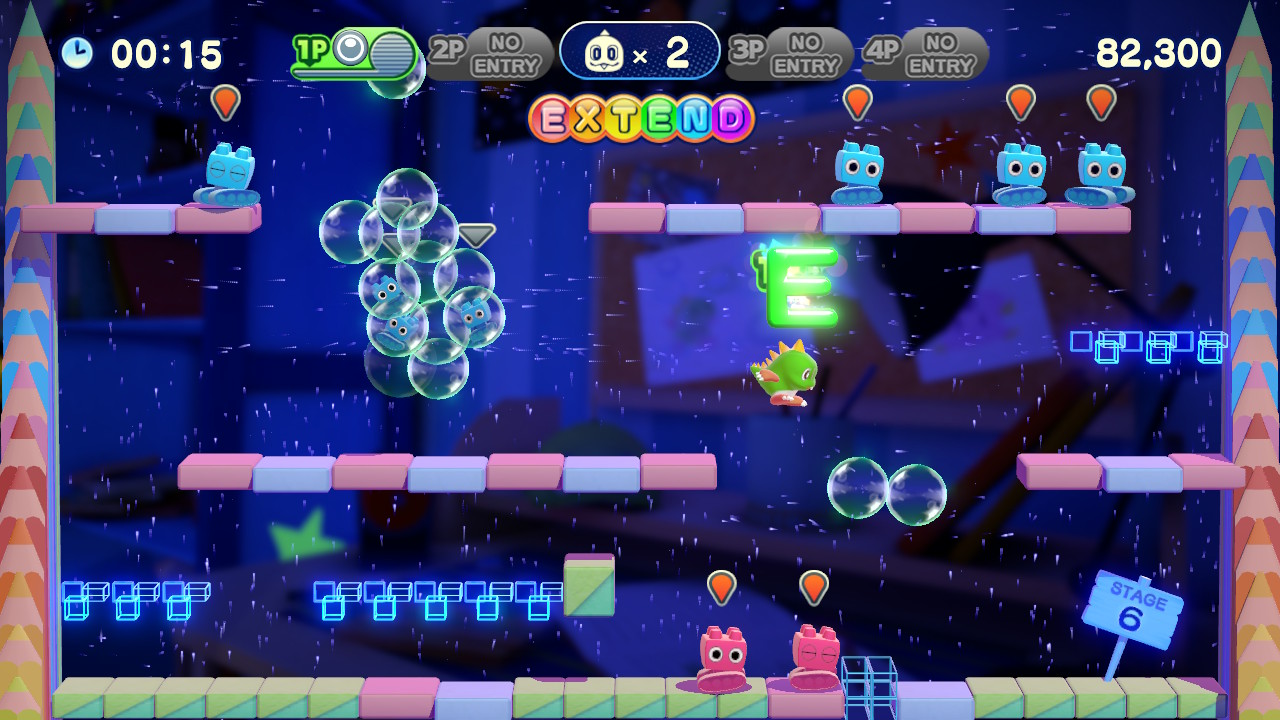 For those experienced with platforming titles, this game might be on the easier side for you. The main title can be completed within 1-2 hours, depending how quickly you go through it. For young kids or those that have trouble progressing through the game, you are provided an option to become invincible if you die too many times in a stage. I'm guessing TAITO has taken a page out of Nintendo's handbook with this one, as the most recent Yoshi games provide a normal and casual mode to assist those that really need it. Once you manage to complete the main game, you are presented with a new difficulty level. This new difficulty adds in more enemies and disables the option to become invincible.
The 3D artwork in Bubble Bobble 4 Friends is quite adorable. While many developers have used mediocre models in some of their games on Switch, TAITO has done a great job with their character models, backgrounds, and game animations. Player and enemy movement appear to be quite smooth and there's no noticeable slowdown in the game. As you progress through the various stages, the background shifts to various places in the bedroom. The shifting background is quite a nice touch versus having just a static black background like in the classic title. The background music is essentially the same as the original game, but remastered a few different ways. Most of the music tracks sound great, but there is 1 that sounds a bit off for some reason. You'll probably know which one I'm referring to when you hear it.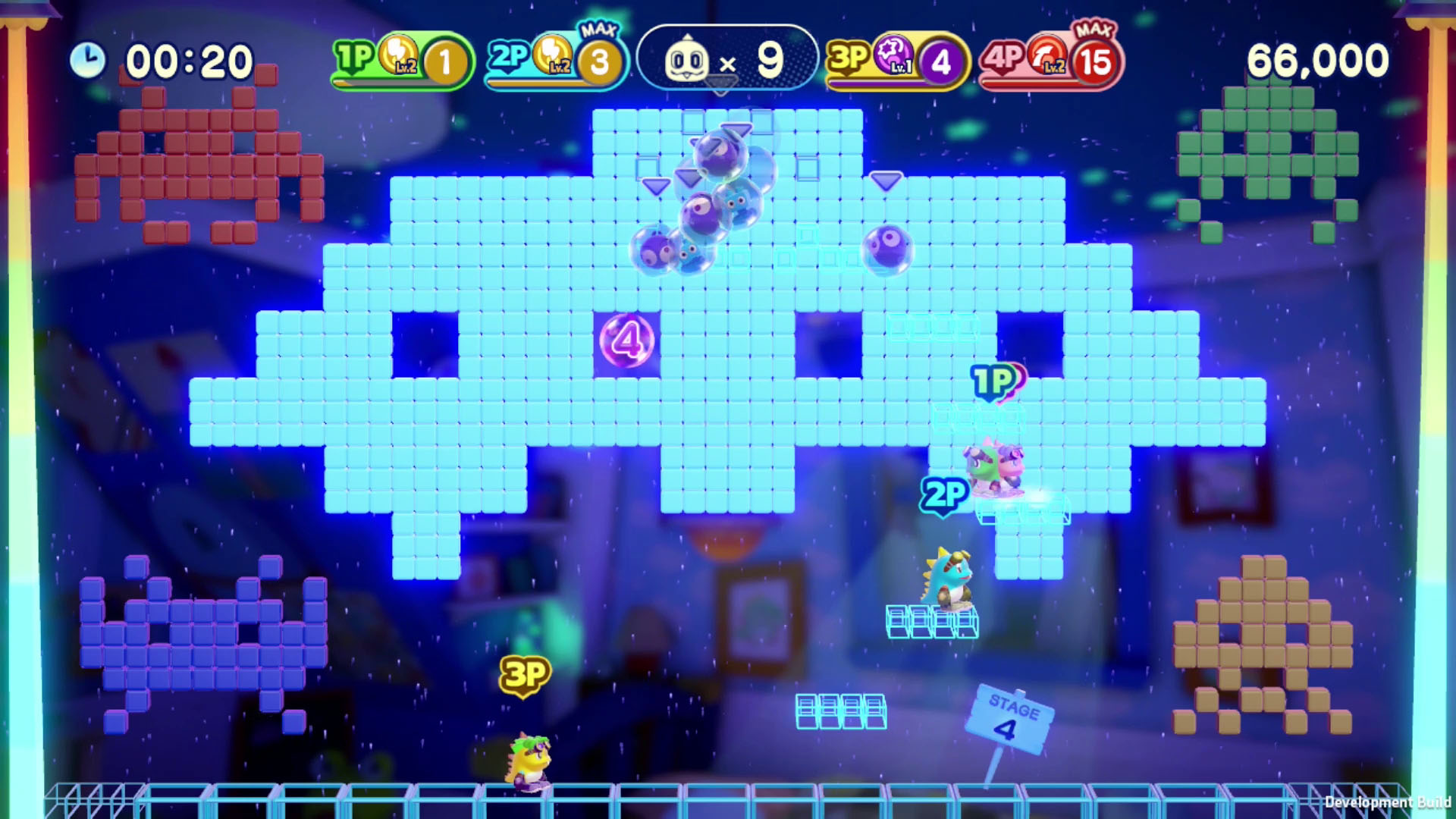 Even though Bubble Bobble 4 Friends is a fun game for all ages, they did make some changes to the game that I was surprised to see. One of the cool features of the original was finding power-ups to help you along the way, which lasted until you lost your life. Bubble Bobble 4 Friends does have power-ups, but they are unlocked after you defeat the boss for that world. Even though the game has 5 power-ups to choose from, you can only equip 1 of them on your hero before starting a world. The game also shows you air currents in the background, so you know which direction your bubbles will float. Luckily you can hide this within the game settings if you wish to make things more challenging for yourself.
A couple other differences in Bubble Bobble 4 Friends would be related to the use of bubbles. There's a few stages where platforms are positioned at slightly different angles. When you attempt to hit enemies with your bubbles when positioned slightly above them, they end up missing. The classic game was a bit forgiving by allowing bubbles to capture enemies, even if those enemies were slightly below your bubbles. The 2nd change relates to bouncing on bubbles. If you didn't hold your jump button down in the classic game, you would pop the bubbles. In Bubble Bobble 4 Friends, your hero will bounce on the bubbles until you press the down arrow to make them pop.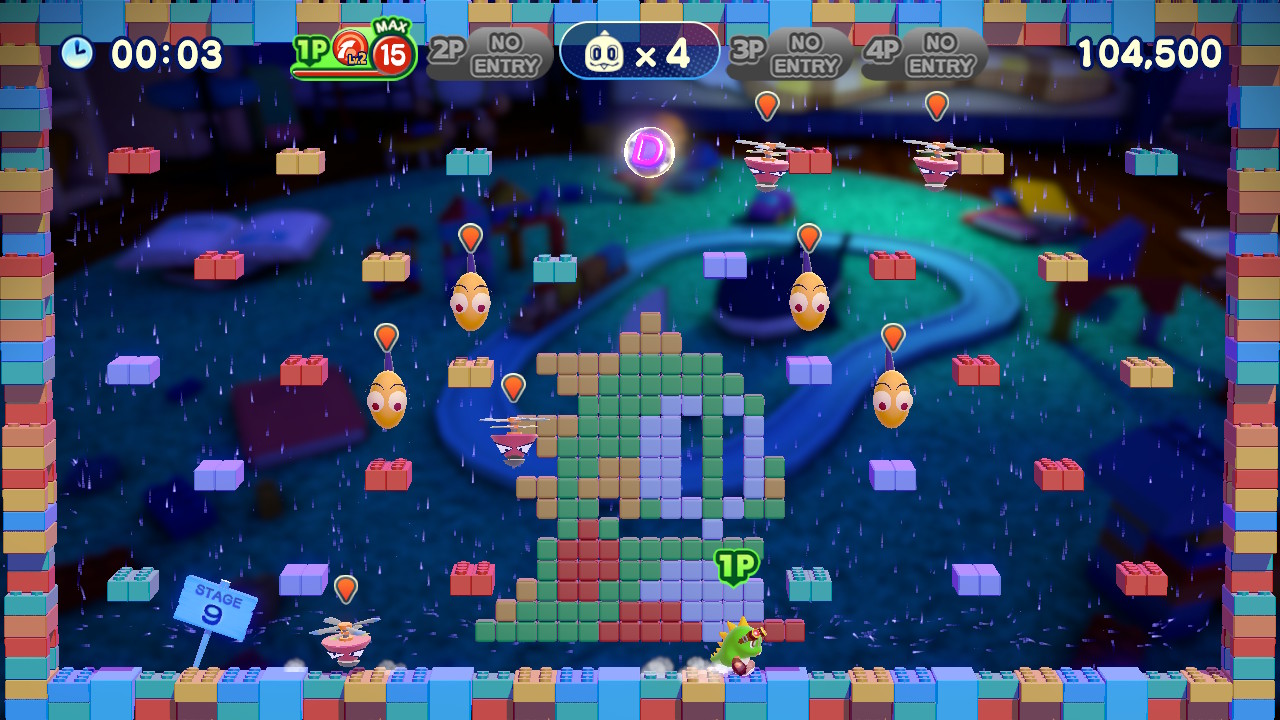 At the end of the day, Bubble Bobble 4 Friends is definitely a fun title that anyone can pick-up and enjoy by themselves or with others. Not only do you get 50+ new stages to work your way through with up to 4 players, but you also get to experience the original 100 stage co-op cult classic in all its glory. I hope to see TAITO bring more classic titles over to Switch, such as Rainbow Islands or Arkanoid.
Bubble Bobble 4 Friends launch March 31st on the Nintendo Switch eShop!