Archive for November, 2019
Gothenburg, Sweden – November 28th, 2019 – Rising Star Games and Amplify Creations are thrilled to announce that Decay of Logos is now available on the Nintendo Switch. Players looking to get into a merciless fantasy world full of powerful foes can download Decay of Logos via the Nintendo Switch eShop today for the price of €19.99 / $19.99.

Decay of Logos is a story-driven, third-person action/adventure RPG with an emphasis on player exploration with minimal hand-holding and challenging combat. Immerse yourselves in the high-fantasy world of Decay of Logos through the eyes of a young adventurer named Ada, accompanied by a mystical Elk. Both are fatefully brought together the day her village is burned down by Crimson Knights bearing the Royal Crest. Motivated by revenge, she sets out on a journey to unveil the truth behind the attack.

Developed by Amplify Creations and published by Rising Star Games, Decay of Logos is also available on PC, Xbox One, and PlayStation 4.
Source: PR Email
London, UK – November 27th – Brain Seal Ltd is proud to announce that Story of a Gladiator is available now on all platforms. Take on the role of a new inductee to the pits, and cut a swath through a series of battles set across the Roman Republic looking to become the new champion of Rome. As your legend grows you'll be able to spend coin on new weapons and armor, use your experience to learn devastating skills, and offer tribute to the gods in exchange for their support in battle.

About Story of a Gladiator

You are a common man who has lost everything in the war against the Roman empire. Your family is dead, your friends are dead, your house has been burned down and your land is now under Roman rule. Despite such misfortune you have managed to escape slavery or worse. You spend much of your time in the streets of Rome looking for some sort of meaning in your life and wondering why the gods have spared you.

One day fate finally reveals itself, are you ready to accept it?

Features:

Learn combat skills and moves that will dazzle your enemies
Over 80 enemy gladiators and 20 ferocious animals each with unique fighting strategy
3 arenas with 36 battles and 3 bosses
Win the favor of the crowd and receive unexpected help
Pray to the gods and call upon them to help you win battles
Train your very own tiger pet
Choose your origin, from Greece, Carthage or Egypt
Rogue-like mode available for those who were born gladiators
Source: PR Email
IRVINE, Calif. – November 27, 2019 – On your marks… get set… PARTY! Mario & Sonic at the Olympic Games Tokyo 2020 is now available on the Nintendo Switch™ in the Americas, and if you're eager to try out what The Onion calls "the final video game," we invite you to try out a free demo available today on the Nintendo eShop!

Dive into a selection of 3D and classic 2D events that can be enjoyed by yourself or with friends and family in local multiplayer, giving you just a taste of what the full game has to offer. Featuring Mario, Sonic, and a cast of iconic characters, settle scores and stand tall on the podium with bragging rights in this all-star celebration.

What you need to know about Mario & Sonic at the Olympic Games Tokyo 2020:

A Bountiful Medley of Events for your Party: Skateboard,surf,and race your way to the top of the podium! With more than 30 events to master in this fun-filled Olympic Games showdown, there are plenty of ways to prove your skills to your friends in local and online multiplayer.
Party On with Dream Events: Dream Events deliver a layer of fantastical chaos. Zip through a downhill obstacle course on your hoverboard, throwdown for territorial control with lightning-fast karate action, or smash the most targets inside a traditional Japanese manor!
So Many Ways to Play*: Exclusively on Nintendo Switch, determine who the real champion is while using the fun and flexibility of Joy-Con controllers to your advantage either solo or in local split-screen and online multiplayer, delivering fun for all ages and groups.
Brand New Story: Help Mario and Sonic escape from a 2D-themed console, the "Tokyo '64," hatched as part of Dr. Eggman's and Bowser's nefarious plans to trap the colorful and capable power pair.
Play with a Cast of Fan-Favorite Characters: The gang's all here! Play as Mario, Sonic, and a star-studded cast of your favorite SEGA and Nintendo characters!

Enjoy all the different classic 2D events, perfect for friends and family:

100m
10m Platform (Diving)
400m Hurdles
Gymnastics – Vault
Judo
Kayak Single (K-1) 1000m
Long Jump
Marathon
Shooting – Trap
Volleyball

You will also dash, climb, jump, surf and more in these fast-paced 3D events:

100m
110m Hurdles
4 x 100m Relay
Archery
Badminton
Boxing
Canoe Double (C-2) 1000m
Discus Throw
Equestrian – Jumping
Fencing
Football (Soccer)
Gymnastics – Floor Exercise
Javelin Throw
Karate – Kumite
Rugby Sevens
Skateboarding – Park
Sport Climbing
Surfing – Shortboard
Swimming – 100m Freestyle
Table Tennis
Triple Jump

The fun even goes beyond the limits of reality with all-new Dream Events:

Dream Karate
Dream Racing
Dream Shooting

Release Date

Mario & Sonic at the Olympic Games Tokyo 2020 is now available exclusively for the Nintendo Switch in the Americas for $59.99 USD and Europe (with commensurate pricing)!

*Joy-Con functionality does not extend to all events.

**Internet connection required during online play. To use online services, you must create a Nintendo Account and accept the related agreement. The Nintendo Account Privacy Policy applies. Some online services may not be available in all countries. Online play requires paid online membership.
Source: PR Email
SYDNEY – Nov. 25, 2019 – Nine Witches: Family Disruption, the comedic alternate-history occult adventure game from Blowfish Studios and Indiesruption, summons supernatural hijinks to Nintendo Switch, PlayStation 4, Xbox One, and Steam for Windows PC in Q2 2020.

Something strange is happening in Sundäe, a rustic village on the northwest coast of Norway. As the fires of World War II rage on, members of the Third Reich's Okkulte-SS division have descended on the hamlet, harnessing a mystical power to strike a terrible blow against Allied forces. Under direct orders from the United Kingdom's Prime Minister, Professor Alexei Krakovitz, a quadriplegic Russian expatriate renowned for his research into the occult sciences, and Akiro Kagasawa, the professor's capable assistant, arrive in Scandinavia to investigate reports of witchcraft and put an end to the Nazi's hellish machinations.

Explore the community of Sundäe and cross paths with more than 70 quirky and eccentric characters as the duo seek answers to supernatural enigmas. Collect clues and unravel a mystery as these unlikely heroes. Cross from the world of living to the realm of the dead as Professor Krakovitz, whose ability to traverse the Astral Plane allows him to pass through corporeal barriers and possess weak-minded individuals without leaving the confines of his wheelchair. Commune with ghosts to learn about the region's haunting history as Krakovitz or switch to Kagasawa when situations need a physical touch, like ferrying items to solve puzzles or taking the fight to the Germans and otherworldly entities in side-scrolling action combat.

Soak in Sundäe's scenery, brought to life with beautiful, retro-inspired pixel art and a comical story dripping with gleefully absurd, dark humor. Prepare for the unexpected as the heroic pair encounters one bizarre situation after the next on their crusade to stop the Third Reich. Help them do whatever it takes to save the world from the Okkulte-SS's evil schemes.

"Nine Witches: Family Disruption was born from my desire to blend world history with magic and my personal sense of humor," said Diego Cánepa, designer, Indiesruption. "I'm grateful Blowfish Studios are using their powers to help me bring the game to consoles and PC so this story can be enjoyed by players across the world."

Nine Witches: Family Disruption will be available on Nintendo Switch, PlayStation 4, Xbox One, and Steam for Windows PC in Q2 2020 for $19.99 USD / €17.99 / £15.99 / $24.99 AUD. It features English, Spanish, German, French, and Portuguese language support.
Source: PR Email
ISTANBUL – Nov. 25, 2019 – Circadian City, the life simulation game where players control their character's life 24/7 from building relationships in the day to surreal dreams at night, will awaken on Steam Early Access for Windows PC in Q1 2020. Publisher Way Down Deep and developer Nowhere Studios' Nintendo Switch version will reach for the stars in Q4 2020, simultaneously alongside PC's 1.0 release.

Start life from scratch with a real job in Circadian City where fun, friends, and flirtations await. Customize your look with a myriad of possible outfits. Start each day by cooking breakfast before heading out into the open world to work, meet up with pals, shop for the newest book or movie releases, indulge in a creative pursuit such as art, or dip into a dating pool awash with both hetero and LGBTQ romantic options.

Don't expect to make friends overnight, or for acquaintances to remain friendly if the bond is neglected, as relationships require care and attention. Cultivate shared interests, such as gardening, music or movies, by visiting related locations and hanging out to discuss the newest trends. Undertake quests to reap the rewards of becoming closer friends. Making memories with loved ones can offset built-up stress, but don't forget the value of getting a good night's rest.

Explore a procedurally generated dream world full of fantastic creatures and wild adventures reflecting the day's activities. Build a farm and craft items with the power to shape the subconscious. Explore the wilderness and challenge creatures to mini-games and collect the crystals crucial to opening up new missions, solidifying one of 16 personality types, and uncovering a life goal to pursue.

Strike the perfect balance of love and friendship with exploration of the subconscious to live your best life. Dare to dream big, then achieve goals during the day among the colorful and retro stylings of Circadian City's urban utopia.

"Circadian City expands on the life sim genre by giving players control of the whole day including sleep, avoiding the gifts-equal-love trope in favor of maintaining more realistic relationships in an unusual setting filled with well fleshed-out NPCs, and more," said Burak Tezateser, Founder & Designer, Nowhere Studios. "Time spent sleeping is just as important as that spent awake, and players will find many ways to entertain themselves in both modes, especially with all the features we plan to add in Early Access."

Circadian City Steam Early Access starts in Q1 2020 for $14.99 USD, and will support English, German, Spanish, Italian, French, Portuguese (Brazilian), and Chinese (Simplified).
Source: PR Email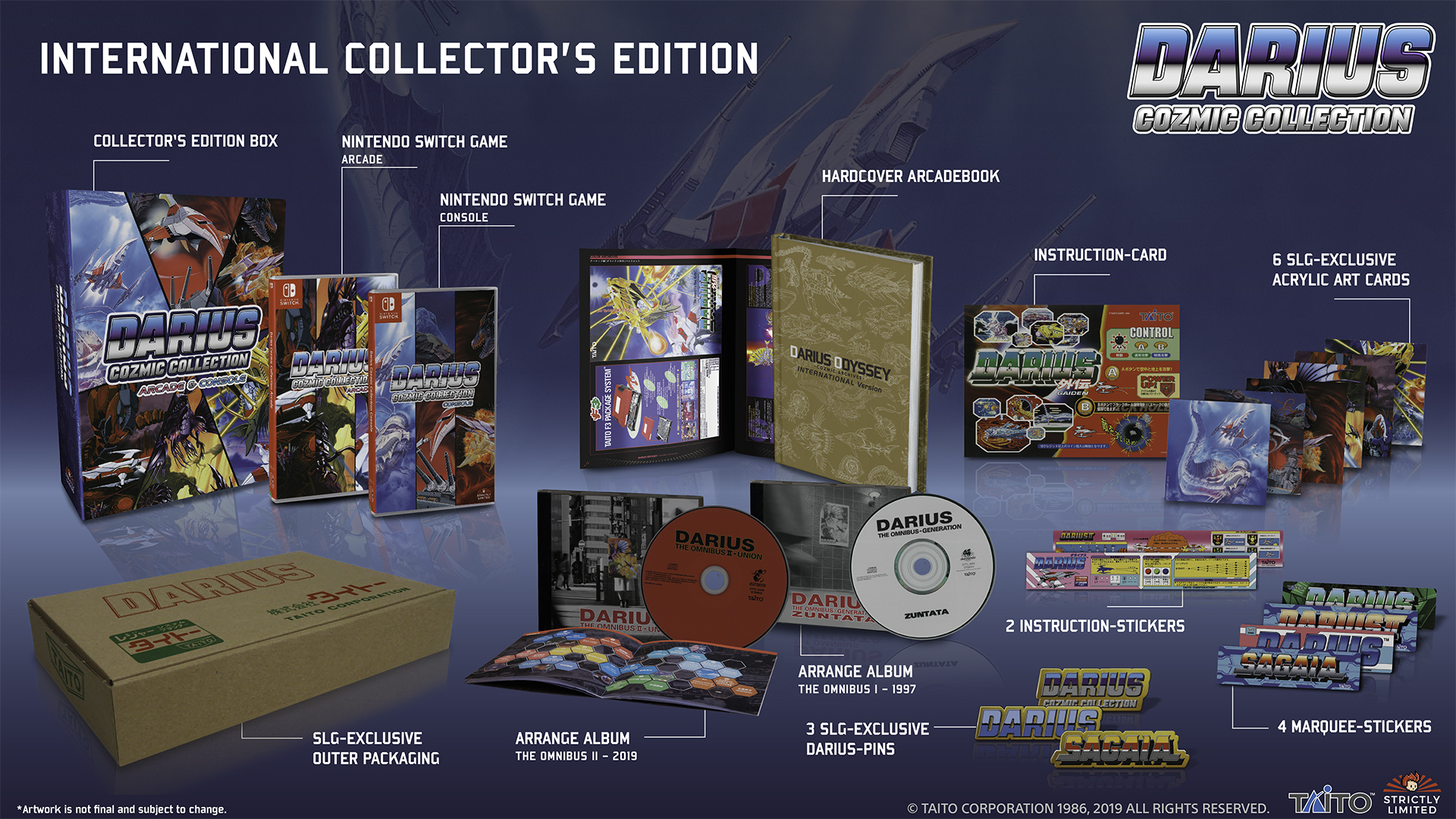 Stuttgart, November 22, 2019 – Stuttgart-based publisher Strictly Limited Games, specializing in the release of limited physical collector's editions of digital games for PlayStation 4, PlayStation Vita and Nintendo Switch, are celebrating their 2nd anniversary in November. To celebrate, they are releasing strictly limited editions of the legendary Darius game series in the Darius Cozmic Collection for PlayStation 4 and Nintendo Switch for all retro-game fans.

Darius is a pioneer of horizontal Shoot 'em up games and was developed by the legendary TAITO Corporation and first released for arcade machines in 1986. In Darius, the player slips into the role of a spaceship pilot, either alone, or in two-player mode, who must shoot and fight his way through enemy hordes with the ship Silver Hawk.  Numerous sequels and ports followed over the years setting new standards each time, from the outstanding soundtrack to the unforgettable opponent design and the branching paths at the end of each section. The Darius Cozmic Collection represents the classic 2D history of the cult Shoot 'em up series.

From 24 November, fans and collectors can pre-order the strictly limited editions of Darius Cozmic Collection for Nintendo Switch, and worldwide exclusively for PlayStation 4, from the Strictly Limited Games webshop:

The Darius Cozmic Collection Arcade contains four different arcade titles in seven versions, as well as an exclusive Darius enamel pin badge for 39.99 EUR and, is limited to just 1900 units (PS4) or 2500 units (NSW).

The Darius Cozmic Collection Console is sure to delight fans with six legendary console titles, in a total of nine versions, as well as an exclusive Sagaia enamel pin badge for the price of 54.99 EUR. Limited to 1900 Units (PS4) resp. 2500 Units (NSW).

The Darius Cozmic Collection International Collector's Edition is limited to just 900 Units (PS4) or 1500 Units (NSW) and contains the following exclusive fan items from the Darius universe in the English version:

Darius Cozmic Collection Arcade and Console for Switch and PlayStation 4 respectively
Two Arrange Soundtrack Albums, Omnibus I – Generation from 1997 of TAITO's legendary "House Band" Zuntata and Omnibus II – Union of 2019
Hardcover Arcadebook
Six SLG-exclusive Acrylic Art Cards
Four stylish marquee stickers
Darius Gaiden Instruction Card
Two instruction stickers
Three SLG-exclusive enamel pin badges
SLG Collector's Box with magnetic closure
SLG-exclusive Retro Arcade PCB Cardboard
Source: PR Email
Bright news for SRPG fans: Langrisser I & II will release on March 10, 2020 in North America, March 13 in Europe, and March 20 in Australia and New Zealand for PlayStation 4, Nintendo Switch, and Steam.

The Comparison Trailer highlights new additions to this release, such as voice lines and the ability to change between Classic and Remastered art styles.
Source: PR Email
GAINESVILLE, Fla. – Nov. 20, 2019 – Dungeon Defenders: Awakened, the epic return of Chromatic Games' multimillion-selling co-op tower defense action RPG series, deploys for Nintendo Switch and PC with a Q1 2020 release, followed by PlayStation 4 and Xbox One in Q2 2020.

Defenders who preorder at the $40 price point will receive a key granting access to an exclusive PC beta, which begins Nov. 22, along with digital bonus content, including a strategy guide, artbook, and original soundtrack.

Venture back to the vibrant land of Etheria on a mission to stop the evil Old Ones' time-traveling plot to undo the heroes' hard-fought victories in the original Dungeon Defenders. Take up arms once again as a scrappy, young band of warriors, repelling relentless hordes of dark forces from beloved reimagined locations and explosive new battlefields. Join the fray in action-packed combat and construct devilish defenses, all while hatching strategies to vanquish enemies alone or as a team of up to four heroes in chaotic local or online co-op multiplayer matches!

With four characters (and more to come), Dungeon Defenders: Awakened features a variety of playstyles for dispatching orcs, ogres, dark elves, wyverns, spiders, skeletons, and other vicious foes. Go toe-to-toe with enemies as the brave, melee-oriented Squire or skirmish at range as the magical Apprentice. Provide support as the dynamic Monk or spring traps as the agile Huntress while guarding the Eternia Crystals across 15 maps and five game modes that hearken back to the series' roots while building and improving upon them in every way.

Gather loot, upgrade equipment, acquire pets, and more to prepare for the fights to come, including showdowns with massive bosses spanning everything from dragons to goblin mechs. Each battle develops heroes with new gear and customization options, allowing them to form unique arsenals to enjoy across countless hours of fast-paced medieval fantasy action.

"Dungeon Defenders: Awakened is an exciting new chapter for us and we can't wait to welcome veterans and newcomers alike back to Etheria," said Augi Lye, co-founder, Chromatic Games. "The journey begins early next year on Nintendo Switch and Steam and we hope you'll join us!"

Dungeon Defenders: Awakened supports cross-saves and features English, French, German, Spanish, Portuguese, Russian, Japanese, and Simplified Chinese language options.
Source: PR Email
Warsaw, Poland – Nov. 20th, 2019 — After its well-received debuts on PC, PlayStation 4, and Xbox One, Children of Morta has now made its way to Nintendo Switch! The stunning action-RPG indie hit from developer Dead Mage and publisher 11 bit studios is now available on the Nintendo eShop for $21.99 with retail versions arriving on Nov. 22, 2019.

Children of Morta is a story-driven rogue-lite RPG game focused on a brave family of heroes, the Bergsons. Fighting to protect their homeland and the legendary Mount Morta from an ancient evil, the family's harrowing journey sees them learn a lot about themselves while facing untold danger at every turn.

Lead the Bergsons, with all their flaws and virtues, against the forthcoming Corruption. Will you be able to sacrifice everything to save the ones you care for?

"We had to postpone the Nintendo Switch release a bit, but in my super-biased opinion as a producer, this was the right decision as it's a fantastic console for Children of Morta — it was meant for this handheld. And we're already going further as I can tease that a roadmap for 2020 is in the works and we will tell more about it soon", Children of Morta executive producer, Marek Ziemak.

Children of Morta in a nutshell:

Gameplay – It's a unique mix of the action-adventure RPG, rogue-lite, and hack and slash genres. By leveling up, you develop not only individual characters but the entire family as a whole. There is no permadeath and you can change family members between dungeon runs.
Story – The story takes place in a distant land but copes with themes and emotions common to all of us: Love and hope, longing and uncertainty, and the loss and sacrifice we are willing to make to save the ones we care about the most. Ultimately, it's about a family of heroes standing against the encroaching darkness.
Dungeon Crawling – All the dungeons in the game are procedurally generated, which means their layout is different with each adventure. There are two to four levels in each dungeon, with a unique boss fight at the end. You can always get back to the previous dungeons to get extra XP or finish all the side quests.
Characters & Skills – Ranged attacks, magic spells, blocks, stuns, evasions, and passive skills – it's all there for you to discover, unlock, and upgrade. You can choose from six different family members, each one having unique skill sets.
Art Style – A combination of hand-painted pixel art and frame-by-frame animations paired with modern lighting techniques bring the beautifully dangerous world of Children of Morta to life!

Thanks to a partnership with Merge Games, the retail edition for all platforms will be available on November 22nd. For gamers who love extra spicy limited editions, there will be PlayStation 4 and Nintendo Switch Signature Editions that include a pocket artbook, enamel pins, and more.
Source: PR Email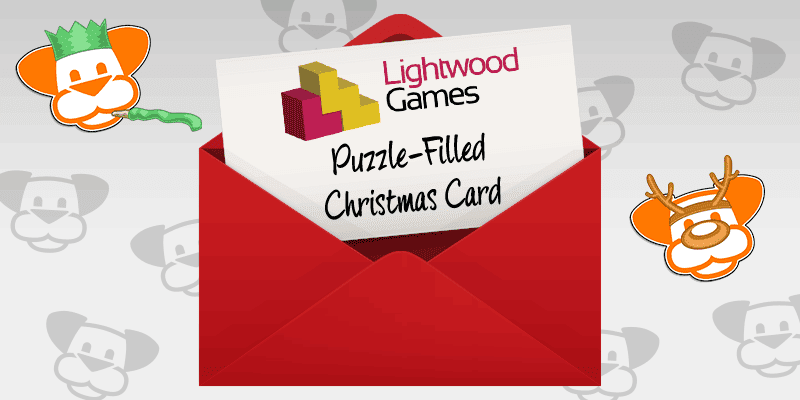 Staffordshire, UK – Lightwood Games is proud to announce its first puzzle game on physical media – but it's not what you think!

It's a special puzzle-filled Christmas card, available exclusively on cardboard.

Lightwood's husband-and-wife team, Chris and Katherine, are sharing their love of puzzles – and some Christmas cheer – by making this escape room-inspired challenge available free of charge.

To receive a copy in the mail, register by clicking here.

The card contains a number of connected challenges, including puzzles from Lightwood's "Pix" and "POWGI" series of video games, which are available on Nintendo and PlayStation consoles.

It's not just a simple code to crack or a hidden message to find. You'll need to piece together several clues to achieve 100% completion.

The card has no specific instructions, but it will be obvious when you have solved it.  In case you get stuck, you can contact the developers for a hint.

The idea began after Chris designed a mysterious-looking card for Katherine last year.

"While it started with an encrypted message in a card, the quest involved tasks specific to one person, and some that required you to be in our home," explains Chris. "For example, Katherine needed to set the smart lighting system to specific values to trigger a text message with the next clue."

"It was awesome!" said Katherine. "I posted some of the puzzles on social media, but it wasn't really possible for other people to take part. This year we've worked together to make a puzzle hunt that we can share with everyone."

Lightwood Games is a specialist developer of puzzle games, with a catalogue spanning ten years and numerous platforms. Recent releases include picture logic puzzle Block-a-Pix Deluxe and unique word search variant Fifty Words by POWGI.
Source: PR Email