Posts Tagged 'Sirlin Games'
EMERYVILLE, Calif. – July 21, 2020 – Fantasy Strike, the fighting game from Super Street Fighter II Turbo HD Remix lead designer David Sirlin, is now free-to-play on Nintendo Switch, PlayStation 4 and Steam for Windows PC, Mac, and Linux. Alongside this price change, an update enters the ring today that includes two new characters, additional cosmetic items and animations for the entire roster, and a new optional set of subscription features.

A first for free-to-play fighting games, Fantasy Strike now allows players to play ALL characters for free online immediately with no grind-to-unlock. This includes the two new characters, Sirus Quince and General Onimaru, who each add new mechanics to the game. Quince deploys illusions to confuse his opponents and can make these illusions "real" for a limited time by landing his super. Meanwhile, Onimaru uses deliberate, powerful sword strikes that can become unblockable in the right situations.

All Fantasy Strike players can play online in casual and ranked modes and watch the action in spectator mode. Practice mode, solo matches vs. AI opponents, and the daily challenges are also all available for free. Those looking for more can find it in the Core Pack, which provides access to local Versus mode, online matches against friends, Boss Rush mode, Survival mode, and an Arcade mode with beautifully-illustrated narrative sequences. Those looking for a lot more can buy the Collector's Pack, featuring everything in the Core Pack plus a ton of cosmetics, an exclusive "Party Time" KO effect, and one year of the new Fantasy+ subscription.

Fantasy+ is a new optional subscription service that doubles XP gains, grants access to special Master Costumes for each character who reaches experience level 20, and introduces an extensive new Replay Theater feature. With this, players can rewatch their own matches, search for replays containing specific characters and skill levels, and view an endless stream of replays in the new Ranked TV and Friend TV channels. Players can also adjust the playback speed of replays, scrub through videos, and even frame step for deep analysis.

"We worked tirelessly to find a way to maintain the competitive integrity of Fantasy Strike that our existing players love while opening it up to an even broader audience," said David Sirlin, game director, Fantasy Strike. "We believe this free-to-play update continues our mission of crafting a fighting game that removes the barrier to being a contender, while also providing excellent value for those who want additional features and to support our work."

Fantasy Strike provides a friendly meeting ground for newcomers and veterans to learn and enjoy hardcore fighting games. Designed to teach and demystify, Fantasy Strike shows players its systems clearly with in-depth video tutorials and innovative frame advantage visual effects. These helpful features are married with other amenities like one-click friend challenges and spectating, built-on-the-fly tournaments, cross-platform play support between all systems, latency-combating GGPO technology, and more.

The free-to-play update featuring new characters and cosmetic items is now available on Nintendo Switch, PlayStation 4, and Steam for Windows PC, Mac, and Linux. Previous owners across all systems automatically receive access to the Founder's Pack, which includes everything in the Core Pack plus 60 costume color sets (over $100 value if bought separately). The Core Pack is priced at $19.99, while the Collector's Pack is available for $99.99. A Fantasy+ subscription can be purchased in 1-month, 6-month, and 12-month increments in-game with gems (approximate value of $4.99, $24.99, and $39.99, respectively).
Source: PR Email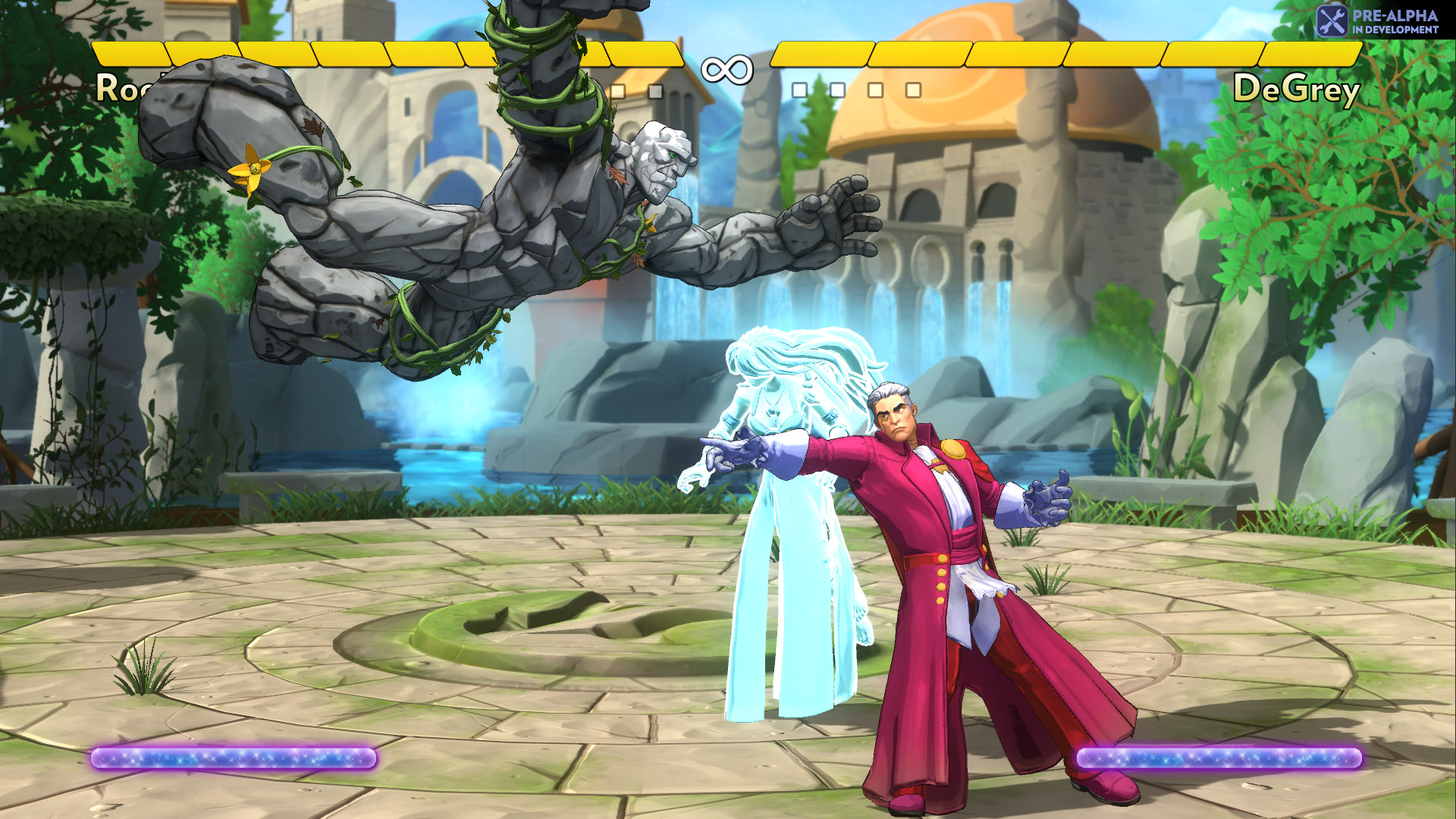 EMERYVILLE, CA – March 20th, 2018 – Fantasy Strike, the upcoming fighting game from Super Street Fighter II Turbo HD Remix lead designer David Sirlin, will come to Nintendo Switch this summer, simultaneously launching alongside the previously-announced PC and PlayStation 4 versions.

"Fantasy Strike is the perfect fighting game for Switch," said Sirlin. "The Switch is a take-anywhere console, so fighting games would be great on it if not for how notoriously difficult they are to control. Usually, playing a fighting game on a JoyCon would be tough, but Fantasy Strike is designed specifically for that. Detach the JoyCons, give one to a friend, and you can play a deep, strategic fighting game anywhere."

Currently in Steam Early Access, Fantasy Strike has been rapidly deploying new features, modes, and increasing production values. In their most recent patch, Sirlin Games added professional voice acting and facial animation for all 10 characters as well as a brand new Team Battle mode. In a Team Battle, players choose 3 characters each and play a variety of different matchups, which is great as a tournament format as well as for casual play.

Sirlin Games has also boosted its networking technology over the last few months, combining GGPO (the best-in-class networking tech that allows there to be no input delay) with its own networking tech that now allows for smooth connections even across continents.

Fantasy Strike entered Steam Early Access in September of 2017. The game is currently available for $19.99 USD in English, French, Spanish, Italian, Brazilian Portuguese, Norwegian, Hungarian, Turkish, Japanese, with additional language support planned for the final release.

To learn more about Fantasy Strike, visit the game's Steam page.

About Sirlin Games
David Sirlin, lead designer of Street Fighter HD Remix, author of Playing to Win and a former pro fighting game player, helms Sirlin Games, an independent video game developer based in Emeryville, California that specializes in competitive multiplayer games.
Source: PR Email