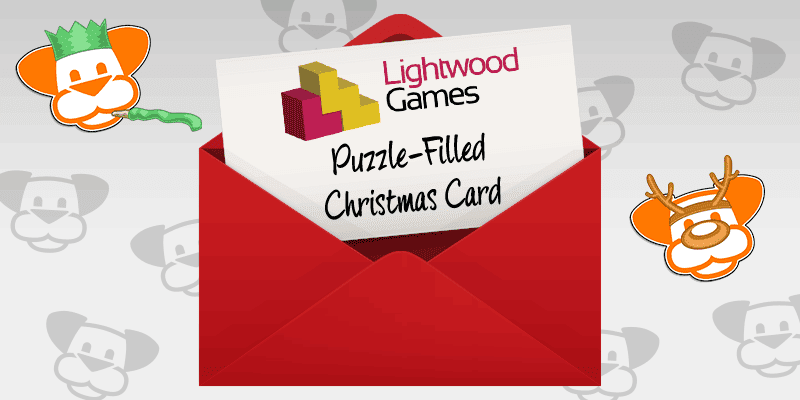 Staffordshire, UK – Lightwood Games is proud to announce its first puzzle game on physical media – but it's not what you think!

It's a special puzzle-filled Christmas card, available exclusively on cardboard.

Lightwood's husband-and-wife team, Chris and Katherine, are sharing their love of puzzles – and some Christmas cheer – by making this escape room-inspired challenge available free of charge.

To receive a copy in the mail, register by clicking here.

The card contains a number of connected challenges, including puzzles from Lightwood's "Pix" and "POWGI" series of video games, which are available on Nintendo and PlayStation consoles.

It's not just a simple code to crack or a hidden message to find. You'll need to piece together several clues to achieve 100% completion.

The card has no specific instructions, but it will be obvious when you have solved it.  In case you get stuck, you can contact the developers for a hint.

The idea began after Chris designed a mysterious-looking card for Katherine last year.

"While it started with an encrypted message in a card, the quest involved tasks specific to one person, and some that required you to be in our home," explains Chris. "For example, Katherine needed to set the smart lighting system to specific values to trigger a text message with the next clue."

"It was awesome!" said Katherine. "I posted some of the puzzles on social media, but it wasn't really possible for other people to take part. This year we've worked together to make a puzzle hunt that we can share with everyone."

Lightwood Games is a specialist developer of puzzle games, with a catalogue spanning ten years and numerous platforms. Recent releases include picture logic puzzle Block-a-Pix Deluxe and unique word search variant Fifty Words by POWGI.
Source: PR Email