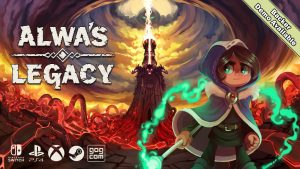 We're happy to finally be able to announce our entirely new game Alwa's Legacy. It's a passion project that we've been working on for more than a year and a half and it feels great to be able to share more details about the game and how it plays.

Alwa's Legacy is a modern retro game full of dangerous dungeons, magical items and ancient secrets. By upgrading your magic, any way forward is right in this non-linear adventure game full of exploration.

Our Kickstarter is live now and we need all the help we can get!

Our first game was a small hobby game that turned into an indie success and Alwa's Legacy is being made by the same core team. But in order to finish a bigger game, we needed a bigger team so we had to hire three more artists to come work with us. There's no need to have played Alwa's Awakening in order to enjoy Alwa's Legacy. They are both standalone experiences and can be enjoyed separately.
Source: PR Email