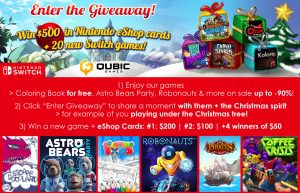 We celebrate Christmas and the upcoming release of 5 games (Mana Spark, Wondershot, Koloro, Super Hero Fight Club: Reloaded, Odium to the Core) by organizing a worldwide giveaway!

Every day, somebody will win a $50 USD eShop Card and our new game. The biggest prizes are $200 and $100 USD in eShop Cards.

We will select some winners randomly and others based on the best photos/videos gathering the Christmas spirit and one of our current Switch games!

By the way, 4 of them, Astro Bears Party, BRAWL, Pirates: All Aboard!, Robonauts are on a temporary sale (up to -90%).

Click on the image above to visit the giveaway!
Source: PR Email